Robert Lewandowski reveals he snubbed Manchester United, Chelsea and Real Madrid
Borussia Dortmund's Robert Lewandowski has revealed that he snubbed moves to Manchester United, Chelsea and Real Madrid.
Last Updated: 24/08/13 5:16pm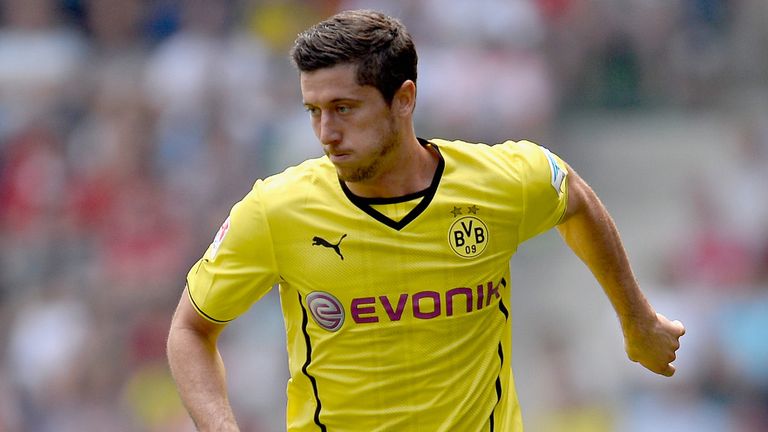 The Poland international was instrumental in Jurgen Klopp's side reaching the Champions League final last season with the highlight of his campaign arguably being his four goals in Dortmund's 4-1 triumph over Real Madrid at the tournament's semi-final stage.
Lewandowski revealed that after the match he received a text message from then Madrid boss Jose Mourinho, telling him that he would like the striker to join him wherever he ended up the following year, which was ultimately Chelsea.
"Yes, there was a situation like this with Jose Mourinho but I wouldn't like to talk about it much," he said.
"It was a private conversation so I don't want to make big things out of it. I can confirm I spoke to him.
"We spoke a few times before. I have his number in my phone. It is a huge compliment for me that a manager with such a big name is texting me this way.
"It is always nice to talk to him but it is not the first time I had such a situation."
Lewandowski also explained that the likes of Sir Alex Ferguson and Florentino Perez have also attempted to lure him away from Germany.
"One year earlier I also spoke to Sir Alex Ferguson and that was definitely a great feeling," the forward admitted.
"The retirement of Sir Alex didn't affect my decision not to come to England. He spoke to me one year ago. It was not at a good time.
"I knew I still had something big to achieve in Dortmund before I joined a bigger club."
Real Madrid would seem to fit into that category but they too were unsuccessful in their attempts to talk Lewandowski into a switch.
The 25-year-old confirmed that Perez, Madrid's president, did speak to him after the Champions League semi-final, second leg.
"It was in the office near the dressing room at the Bernabeu straight after the match. We spoke to each other briefly and...OK, let's just say we spoke.
"I didn't say 'no'. I was mostly listening to Mr Perez."
Despite the interest from such big clubs, it is European champions Bayern Munich who look set to win the race for his signature at the end of this season with the attacker revealing a January move to the Premier League would be tricky.
"Well, I don't know how to say it now but it may be difficult," said Lewandowski.