Borussia Dortmund boss Jurgen Klopp excited by clash of styles ahead of Arsenal game
Jurgen Klopp has praised Arsene Wenger but says he prefers 'fighting football' ahead of the game with Arsenal.
Last Updated: 04/11/13 10:30am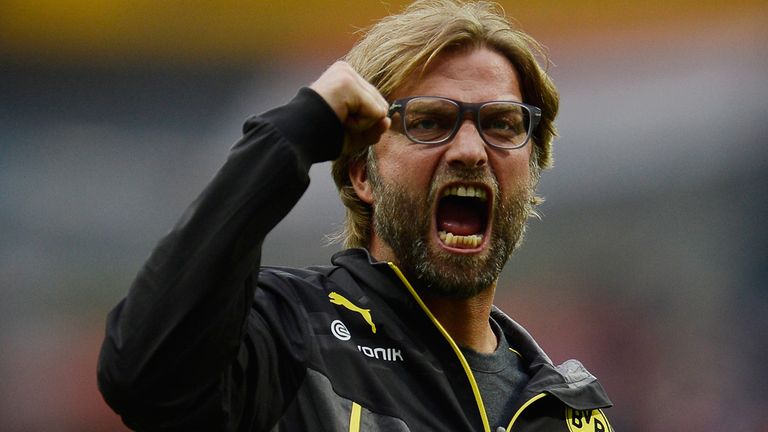 While the likes of Arsenal and Barcelona like to dominate possession, Klopp is more interested in a high intensity game and was delighted to see that Dortmund's players ran a total distance of 117km compared to the Gunners' 106km in the recent match at Emirates Stadium.
Dortmund won 2-1 and Klopp is looking for a repeat performance when the two sides meet again on Wednesday, although he remains wary of Arsenal and has respect for Wenger's artistic approach to management.
"He is really something. I love him. He is Sir Arsene Wenger," said Klopp.
"But he likes having the ball, playing football, passes... it's like an orchestra. But it is a silent song. I like heavy metal more. I always want it loud.
"When I watch Arsenal in the last ten years it is nearly perfect football but we all know they didn't win a title.
"Who wins the title? Chelsea, but with different football. But this is the philosophy of Wenger. I love this but I cannot coach this as I am different."
The key for Klopp is hard work and he demands that his players switch between attack and defence as quickly as possible, which is a style he believes is better to watch.
He explained: "I love it when I read after the game that we ran more than the opponent. If somebody tells me after the game that we ran 10km more than the opponent, that's good.
"I want to fight with perfect defence, switching to offence, very fast, switching back to defence very fast.
"It's not the same with Wenger. Handling some situations we are similar. I hope so. He's very intelligent, a great guy.
"I am a very emotional guy. What I love, I do with all I have. I fight for justice. It's a very important point for me. You give all... there's no guarantee that you get all but if you give all maybe you can get something.
"If, in the last four years, Barcelona were the first team I saw playing when I was four years of age - this serenity of football, they win 5-0, 6-0 - I would have played tennis.
'It is not my sport. I don't like winning with 80 per cent (of possession). Sorry that is not enough for me.
"Fighting football, not serenity football, that is what I like. What we call in German "English" - rainy day, heavy pitch, 5-5, everybody is dirty in the face and goes home and cannot play for the next four weeks."