Nuri Sahin tells Sky Sports that Borussia Dortmund could put Arsenal on brink of Euro exit
Nuri Sahin thinks beating Arsenal on Wednesday could leave the Gunners on the brink of UEFA Champions League heartache.
By Francisco Acedo
Last Updated: 06/11/13 12:44pm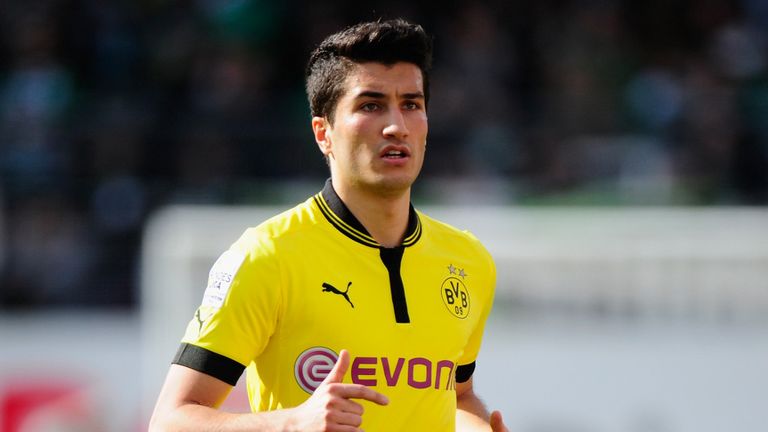 The Gunners currently sit top of Group F, but they are level on points with both Dortmund and Napoli and could drop down to third if they lose in Germany.
Dortmund midfielder Sahin believes they can turn the pressure up on Arsenal on Wednesday by completing the double over the Premier League leaders.
"Our victory in London was very important but still nothing is closed," he told Sky Sports.
"Now we are obliged to win at home to maintain our own chances. Arsenal? If we defeat them this week I see it being very complicated for them to make the next round of the Champions League."
Sahin feels all the pressure is now on Arsenal ahead of the game, adding: "Arsenal are under more pressure than us as a defeat here in Germany would make things difficult - but that is similar to us, if we fail then our triumph in England was for nothing.
"Our win in the Emirates was justified, it was not easy or by luck - we were runners-up last season and we play every match with the same intensity.
"We knew Arsenal would be more compact than us, but we stopped their key players.
"Arsenal are very offensive but their power is reduced if you can stop their creativity, that was our success in the first match and now we need to repeat the situation.
"The Gunners are not your typical English club, for me they are more European with a style like Spanish and German teams."
Sahin would not speak about 2012 when he reportedly turned down the chance to sign for Arsenal when he joined Liverpool on loan, but his spell in England was cut short after an unhappy time at Anfield.
"I did not have a happy experience in the Premier League, in Liverpool I did not get many chances, but that is in the past and I only think about Borussia
Dortmund," he said.
Watch Dortmund v Arsenal live on Sky Sports 1, coverage starts at 6pm on Wednesday.