Jurgen Klopp would consider Germany role in future but is happy at Borussia Dortmund
Jurgen Klopp has admitted the idea of becoming Germany coach at some point in the future is quite appealing.
Last Updated: 25/02/14 5:28pm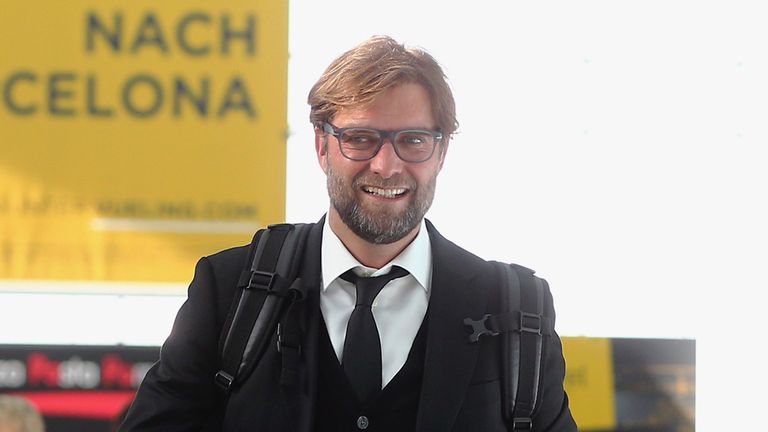 Klopp has captured two Bundesliga titles and one German Cup during his six years in charge at Dortmund, while they were runners-up to Bayern Munich in last season's UEFA Champions League.
Klopp remains under contract at the club until 2018 and is still happy and determined to enjoy further success in the seasons to come, but he has also been mentioned as a possible successor to Joachim Low as head coach of the national team.
Klopp admits it would be a great challenge that he would have to consider carefully, but the circumstances would have to be ideal and he does not expect the opportunity to arise for some time.
"Not yet, but obviously it's basically a very attractive proposition," he said on FIFA's official website.
"I'm very happy living in Germany, I think it's a fantastic country and the people are pretty cool. If they were enthusiastic about me taking on the national team at some point I'd obviously think it over, although quite a lot of things would have to come together for that to happen.
"But joking aside we have a fantastic national coach and I have a terrific job with Borussia Dortmund, so everything's fine."
Klopp believes it is Dortmund's passion for football that makes the club so special, while he thinks one of the keys to his own success is that he treats his players like colleagues without letting his authority get undermined.
He said: "I don't care much for being thought of as a hero. I like to treat my players as co-workers. Provided the team accepts this approach, it can work well.
"However, if any of my players was to start thinking he now had the right to debate line-ups or training drills with me he'd be making a fundamental error. What I say goes. But outside of training you can deal with me as you would with anyone else.
"Why do I like working there so much? It's an emotional thing. How we do so obviously matters to the people there, and I really like that.
"There's basically nothing more important in Dortmund than football. Munich is just too nice a city to restrict yourself to football, you're halfway to your holidays when you go there. Hamburg has the coast, Cologne has [annual street festival] Karneval, and Dortmund has football, end of. I think that's cool, and it all fits together."
Klopp also expressed his pride at being named on the shortlist for FIFA World Coach of the Year alongside Sir Alex Ferguson and Jupp Heynckes, who claimed the award for his achievements with Bayern Munich.
He said: "Both are true greats and I admire them. It feels as though Alex Ferguson was Manchester United coach for as long as I've been alive.
"I've come to know Jupp Heynckes over the last few years and can honestly say I'm really, really delighted he won it."