Bundesliga: Eintracht Frankfurt boss Armin Veh sets his sights on qualifying for Europe
Eintracht Frankfurt boss Armin Veh has set his sights on qualifying for Europe next season after beating Greuther Furth.
Last Updated: 01/04/13 11:44am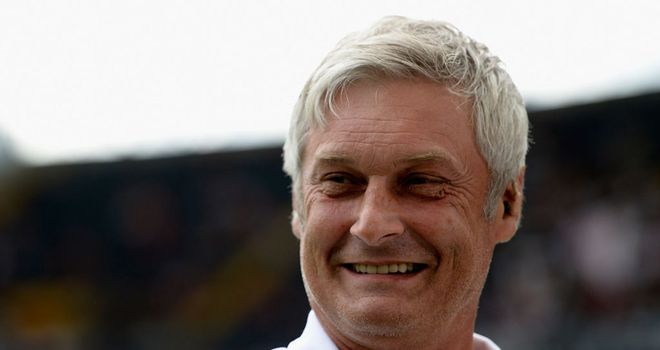 That win lifted the Eagles into joint fourth place, behind Schalke only on goal difference, and three points ahead of Mainz.
A top-six finish would be good enough for a place in the Europa League next season and Veh, who signed a new contract extension last week, has made that his side's new objective.
"We have reached our goal for the season today by moving onto 42 points and now we want to see if we can finish in the top six to qualify for Europe," he said.
"If we want to have the chance to be in Europe, then this was a vital win."
Should Frankfurt qualify for Europe, Veh will have funds to strengthen his squad after being given assurances by club president Heribert Bruchhagen.
The availability of money for new players was one of the reasons why Veh decided to extend his contract by a year last week and ignore the overtures from league rivals Schalke.
"We have a decent team, but we need to strengthen it," he told Sky television.
"Heribert Bruchhagen and the board have given us assurances that we can buy one or two new players.
"I don't want to demand things which are not possible, but I think it's necessary that Frankfurt strengthen the squad and everybody sees it the same way."