Bundesliga: Eintracht Frankfurt coach Armin Veh will step down in the summer
Armin Veh is to step down as coach of Eintracht Frankfurt in the summer, the Bundesliga club have announced.
Last Updated: 03/03/14 11:46am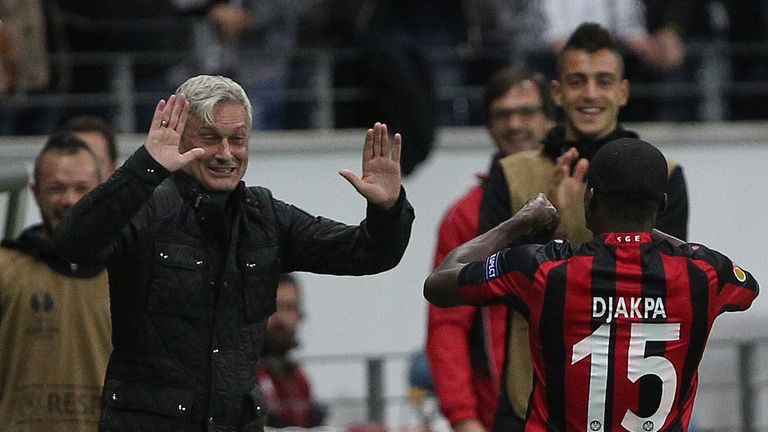 Veh informed club bosses of his decision not to extend his contract beyond June prior to Sunday's 2-1 win over Stuttgart, and he told the players of his choice before that game, according to the Frankfurter Allgemeine newspaper.
Club president Heribert Bruchhagen on Monday confirmed reports to the dpa agency, with the search for a successor now under way.
Veh is understood to have made up his mind after Frankfurt were eliminated from the Europa League by Porto on Thursday.
Sunday's win lifted the Eagles six points clear of the relegation zone and Veh, who led Stuttgart to the Bundesliga title in 2007, will aim to keep the club in the top flight before leaving.
Inevitably, Veh is already being linked with other jobs and he has emerged as the favourite to succeed Jens Keller as coach of Schalke from next season.
Keller is under pressure again after his side were beaten 6-1 by Real Madrid and 5-1 by Bayern Munich in the space of four days.
Veh does not expect his decision to leave the club in the summer to have a negative effect on their performances between now and the end of the season.
"It's important to me that we reach our goal for the season, which is survival, in spite of all the burdens and problems," Veh said at a press conference in Frankfurt.
"I cannot imagine my departure having a negative impact on the team. Jupp Heynckes went on to win everything after announcing he was leaving Bayern (last year)."
Veh revealed how he had made his decision during the winter training camp in Abu Dhabi, but had agreed with the club not to make any announcement before the news was leaked over the weekend.
"I only informed the team that I'm leaving (on Monday)," Veh said. "I wanted to announce it in the winter, but I agreed to the club's wish to do so later.
"It's not true that I told the players before Sunday's game."
Before he does leave, Veh's job is to ensure the club do not go down.
Sunday's win gave them a six-point cushion over the relegation zone with 11 games of the season remaining.
"We all have the desire to work together successfully right up until June 30," club president Heribert Bruchhagen said.
"We always wanted to extend his contract, but he told us in Abu Dhabi that he would not be doing so.
"Given the sporting situation, we decided to put back any announcement."
Veh has already been linked with a move to Bundesliga rivals Schalke, whose coach Jens Keller is under pressure following two heavy defeats last week.
Frankfurt have yet to identify a replacement, although it is one of their priorities to do so.
"We haven't spoken to anybody yet, but the position of head coach is a very important one - especially in terms of players' contracts and new signings," said the club's general manager Bruno Hubner, who is not aware of any of Veh's assistants also wanting to leave.
"We can only speculate about the current coaching staff. It will all depend on who takes over as head coach."