Premier League: Andre Villas-Boas hails Tottenham's Christian Eriksen
Andre Villas-Boas expects Tottenham's Christian Eriksen to rise to the added challenge of playing in the Premier League.
Last Updated: 16/09/13 2:22pm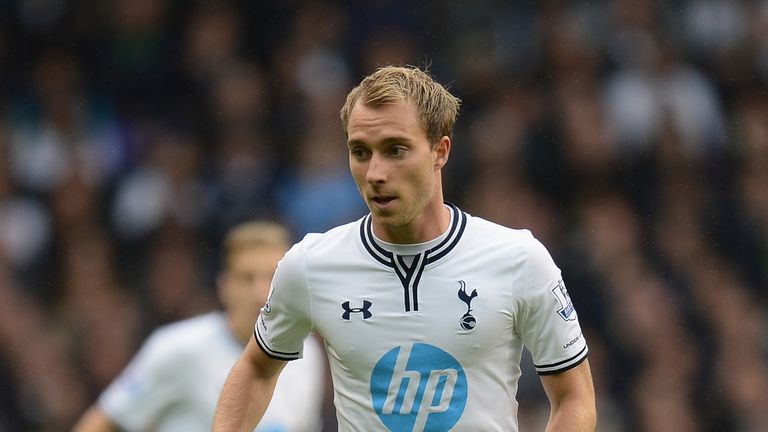 The Denmark international midfielder enjoyed a fine debut for Spurs at White Hart Lane on Saturday, contributing a key role in the 2-0 win over Norwich.
Eriksen claimed an assist for Gylfi Sigurdsson's opener and was involved in the Icelander's second goal too.
His £11m transfer fee from Ajax may be seen as a bargain in due course and many observers have wondered why Eriksen has not ended up at a bigger club which can guarantee him Champions League football.
Villas-Boas believes there is still some trepidation over entering into multi-million deals involving Eredivisie clubs, but has no fears himself over the 21-year-old's potential.
"It's difficult because the disparity between the clubs in the Dutch league is so big that whenever you have players that perform at this level, it is hard to judge if it is based on individual quality or lack of quality from the opponent," explained the Tottenham manager.
"I think this happened with Wesley Sneijder and Rafa van der Vaart. Most clubs knew they had the potential but it took time for them to grab them - this is probably what happened with Christian.
"We saw him live last season because we thought hard about the possibility of bringing him last season as well.
"He he has all the conditions to become a great player. The Premier League will offer him the kind of challenge that he didn't have in the Dutch league."
Eriksen could get another chance to pull the strings in the Spurs midfield when Tromso visit the Lane on Thursday night for the first Europa League Group K fixture of the season.
"I think Christian is a pure number 10," said Villas-Boas to the Daily Mail.
"That's because of his creativity and also the position he has occupied all of his life. He is naturally gifted in that position.
"His vision, his ability to see forward when he receives the ball are the characteristics you want in a playmaker."