Sky Sports Scout - Richairo Zivkovic
Sky Sports Scout is where we scour the globe looking for the best talent. Next up is Richairo Zivkovic.
By Sky Sports Scout - Tweet me: @skysportscout
Last Updated: 21/05/14 12:11pm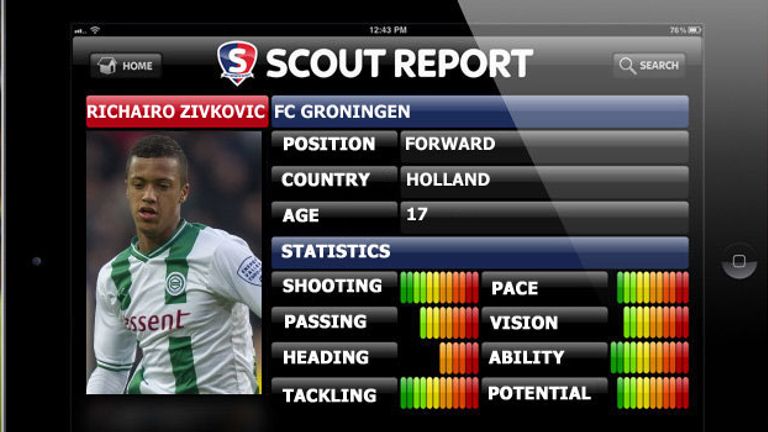 Our scout will report back and you can comment on what you think of their appraisal.
You can only nominate a player by emailing here, including the word 'Scout' in your subject line, and please check to make sure we have not already covered the player.
You can also now interact with the scout via his Twitter feed! You can get in touch with him and interact here or just search for @skysportsscout.
The latest player to be spotlighted is Dutch starlet Richairo Zivkovic.
The scout reports...
Richario Zivkovic is emerging as one of the most coveted young players in Dutch football, and has been branded as the next Arjen Robben as he is coming through the ranks of the same club - FC Groningen.
Whilst the likeness is probably not quite right given Zivkovic is more of a striker - it is clear to see why people think Groningen have their best talent since the likes of Robben and one Luis Suarez.
Indeed it could be argued that Zivkovic is possibly more similar to Suarez, given his eye for goal and his penchant of playing through the middle.
Born in Assen, to a Serbian mother and a Curacao - Zivkovic is a real mix when it comes to his heritage but their is no doubting he is a pure footballing talent.
He began playing football at a very young age in his local academy FVV, before at the age of 11 he was picked up by Groningen.
He was quickly identified as a top youngster and he was soon promoted through the ranks and handed a three-year deal.
Soon after signing his contract at the end of 2012 - he was promoted into the first team and in December against Heracles, he became the youngest ever player in their history.
Before he turned 17, he also became the youngest ever goalscorer - when he scored against NEC Nijmegen in August last year.
Now a regular in the Groningen squad at 17 - it is little surprise that Europe's elite are tracking him.
From Real Madrid and Barcelona, to Arsenal and Manchester City - seemingly Zivkovic will have his pick of clubs when the time comes for him to choose.
Zivkovic is a hugely talented player, full of running and skill - he is a constant threat - but he is clinical too, which does separate him from the usual skilful and quick players, who find themselves out wide more often than not.
The scout says...
Zivkovic is a huge talent, but he will clearly benefit from at least another 18-months in Groningen - but it remains to be seen whether he will get that.
Groningen is clearly an excellent place for a young player to develop, and Zivkovic is the latest evidence of that.
The Scout rating...
Shooting: 7 out of 10
Passing: 7 out of 10
Tackling: 5 out of 10
Heading: 6 out of 10
Pace: 9 out of 10
Vision: 8 out of 10
Current ability: 7 out of 10
Potential ability: 10 out of 10
OVERALL SCOUT RATING: 59/80
Current value: £8million
Potential value: £60million
Your opinion...
You have read our opinion of Richairo Zivkovic - now we want your views. Have you seen Zivkovic in action? Do you agree with our assessment? Do you think he will make it?
Get in touch, either using the form below, email or the scout's Twitter feed - @skysportsscout.
Pick your Sky Sports Fantasy Football team for the chance to win over £100k in prizes. Play for free here.