John Heitinga hopes Everton can bounce back from cup disappointment at Leeds
John Heitinga believes Everton supporters deserve better after Tuesday's disappointing Capital One Cup exit at Leeds.
Last Updated: 26/09/12 1:11pm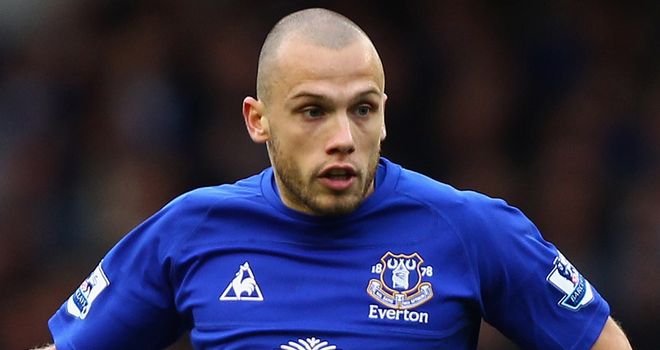 There were around 5,000 Everton fans at Elland Road to see David Moyes' men slip to a surprise 2-1 defeat.
And they were eager to see their side launch a strong bid for silverware having not won a trophy since the FA Cup of 1995.
Heitinga was captain for the night on his 100th start for the club and the defender sympathises with the frustrated supporters.
"We need to bounce back, especially for the fans," said the 28-year-old Holland international.
"We came with 5,000 Evertonians, which was great. The support of them was really great. It was because of us that we lost, not them.
"The next round when you see Leeds playing it will still be hard that we're not continuing in the cup, but that's football.
"You need to focus on the next couple of games and we need to bounce back now. Not only for ourselves, for the fans.
"The confidence is still in the team because we've played really good football the last couple of months, we're near the top of the league and we want to stay there.
"We saw it as a way we could win silverware and it's the shortest way to a trophy.
"We are out of the competition now and we need to focus on the league instead. There is not much time to think about this game because the next game is in a few days."
Lost
Sylvain Distin pulled one back late on but by that stage Everton were two goals down to a fourth-minute strike by Aidy White and a Rodolph Austin flick midway through the second half.
Moyes' side pushed hard for a breakthrough with Marouane Fellaini and Victor Anichebe a threat, but Heitinga feels the game was lost before the interval.
He added: "It was a big disappointment, we started really badly. We didn't play how we normally play and they scored an easy goal in the first couple of minutes.
"After that the first half was them. We didn't create anything, there was no spirit.
"In the second half you could see there was a different kind of way that we played with Felli up top behind Victor and we created some chances.
"The second half was more of a contest but we lost the game in the first half.
"We've got a good squad and sometimes you have games like this, it happens. Unfortunately we are out of the cup now and we need to focus on the next game on Saturday."