Dwight Yorke says Paul Lambert future is in doubt if Aston Villa go out of Capital One Cup to Bradford
Dwight Yorke says Paul Lambert can't "get away with it" if Aston Villa lose to Bradford on Tuesday.
By Stephen Mills
Last Updated: 22/01/13 4:42pm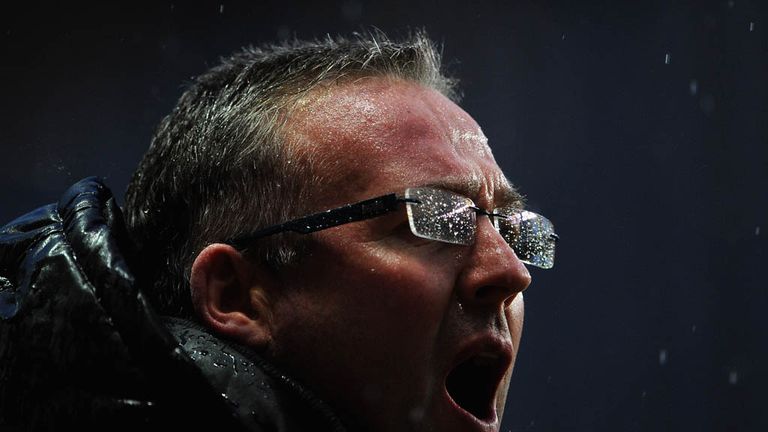 That's the view of former striker Dwight Yorke, who says he is saddened to see a team that was consistently challenging for honours during his decade at Villa Park scrapping for survival in the lower reaches of the Premier League.
Saturday's 2-2 draw with West Brom saw Lambert's men climb out of the bottom three, but if they fail to overturn a 3-1 deficit in Tuesday's Capital One Cup semi-final against League Two Bradford, the heat is likely to be turned up on the Villa boss once more.
And Yorke says the manager must take responsibility for a side that has consistently underperformed this term.
He told skysports.com: "Nobody likes to talk about managers' jobs being on the line, we don't like to see that, but as managers and players it's all about results.
"They've got a great opportunity to get to a Wembley final and if they let that opportunity slip through their hands - and let's not forget it's not over yet - and the league form continues like it is then I'm afraid his job will have to be on the line. It's as simple as that.
"You can't be at such a big club and get away with that, it just doesn't happen.
"Okay, the club may not be able to compete with the likes of Man United and Chelsea and Arsenal and Man City, but Villa are a huge club. I look at the likes of Newcastle last season or what West Brom are doing this season - why are Villa not doing that? I don't know.
"It baffles me and it hurts to look from the outside to see that sort of thing happening because in my time - and just before my time - Villa were always in the top five in the country. Now they're not even mentioned and it's really a sad time.
"Villa is a great venue for any football team to go and play at - it hosted a lot of FA Cup semi-finals in the past - and traditionally Aston Villa are a huge club.
"But not on the pitch at this point in time, I'm afraid."
Concern
Aston Villa have won just four league games this season and Yorke, who played for the Midlands team between 1989 and 1998, says Lambert has failed to get the best out of his youthful squad.
But he says some of the blame must lie with the players, some of whom he feels are not good enough to play for the club.
"I'm concerned," Yorke continued. "You just have to look at the league position in terms of what they have done and achieved so far in this season. It's simply not good enough.
"I would love to sit here and say Aston Villa is my team and they are doing fantastic, that they're doing all the right things, that they've got the right manager and everything is hunky dory - but the harsh reality is that they are simply not good enough.
"It's not good enough for Aston Villa, not the club that I played at for 10 years and where the standard has been high for a number of years. Currently that is not the case.
"You can't just single out one weakness, you've got to look at the whole concept of the team. Are the players good enough? Are they doing enough? Does the manager get the best out of the players? These are the questions that need to be asked.
"At the moment, from both sides of things, that is not the case. The players are simply not good enough and is the manager doing enough to get the players to play to their full potential?
"It's not just me, but everyone - including fans who have seen Aston Villa this season - would be extremely disappointed with what they have done and where they are in the league at this stage."
Comfort zone
The Villa Park faithful have been treated to just eight goals in 11 home games in the Premier League this season with summer signing Christian Benteke responsible for three of those.
And Yorke called on the club's experienced players, such as Gabriel Agbonlahor and Darren Bent, to step up to the plate and contribute more to the cause.
"People like Agbonlahor need to do more," Yorke said.
"He's in a comfort zone and needs to come to the table more. He was knocking on the England door three years ago and suddenly we don't hear about him, so something must be wrong.
"Then you've got Bent who cost a lot of money and is a goalscorer. Why are they not firing on all cylinders? It's up to the manager to do something about that and get the best out of his players - and not just the strikers, but the whole team.
"I don't feel Aston Villa is playing to its potential and when you look through that team, if you put them up for sale how many of them would get into other Premier League teams? I'm not sure you'd get too many.
"Maybe the players are simply not good enough."
Uphill battle
Yorke was part of the Aston Villa squad that overturned a 3-1 first-leg deficit against lower league Tranmere in the 1994 League Cup semi-finals, before beating Manchester United in the Wembley final.
The current squad faces an almost identical task ahead of Tuesday's return leg against Bradford, but Yorke is not convinced they have the form to launch a similar comeback.
And he says the game is likely to hinge on whoever scores the opening goal.
He said: "Aston Villa have got it all to do and with the team lacking in confidence it's going to be an uphill battle.
"The first goal is the key. Bradford are fully aware that one goal can change the whole mood in that stadium. I played there and I know exactly what the people are like.
"I want Aston Villa to do well and I want Aston Villa to get to the final, but the first goal will really make a difference. Playing at home is supposed to be an advantage, but for a team low on confidence it can be a disadvantage.
"The pressure will be on the players and will they want to see the ball? If they give the ball away what will the reaction of the crowd be?
"The pressure will be on Aston Villa, but the key for Lambert is to get that first goal, lift the crowd, lift the players and give them confidence to go again.
"I'm hopeful, but based on what we saw and based on the league positions and seeing how the players are I can see it being very difficult to turn it around, but it's only a two-goal deficit and if they can get the first goal they've got every chance of turning it around.
"That first goal is vital because I can't see Villa going a goal behind and turning it around with the confidence they have at this stage.
"They need to go ahead and if they go ahead they can go on and get to that Wembley final."