Celtic Park pitch invader arrested after confrontation with Paris Saint-Germain's Kylian Mbappe
Last Updated: 13/09/17 1:33pm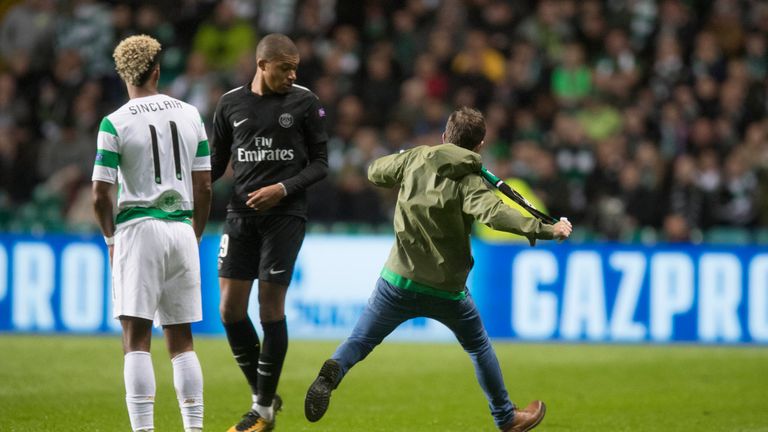 Police have arrested a pitch invader who confronted PSG striker Kylian Mbappe during Tuesday night's Champions League game against Celtic.
The supporter broke onto the Parkhead pitch in the first half of Celtic's 5-0 defeat to the Ligue 1 giants, and could cause repercussions for the Scottish side as he came close to making contact with the 18-year-old striker.
He appeared to aim a kick at Mbappe but missed before being led away by stewards and ultimately being arrested. He is due to appear in court in Glasgow on Wednesday, 13 September.
Police later confirmed that there were seven arrests in total at the game, four of whom were still in custody on Wednesday morning.
Mbappe, who has joined the French club on a season-long loan ahead of a £166m move next summer, had already scored PSG's second goal when the incident took place shortly after Edinson Cavani's 40th-minute penalty had made it 0-3.
Celtic were fined just over £20,000 by UEFA for crowd offences in their home Champions League qualifier against Linfield in July.
That was Celtic's 11th punishment in six seasons relating to supporter misconduct during European ties, with over £160,000 in fines incurred over the same period.
Celtic's 5-0 home defeat to PSG represents another disappointing start to their European campaign, having lost 7-0 to Barcelona in their opening game of the competition last season.