Chelsea goalkeeper Petr Cech happy with away record
Petr Cech says Chelsea have no worries about their ability to perform away from home in the UEFA Champions League.
Last Updated: 01/10/12 9:22pm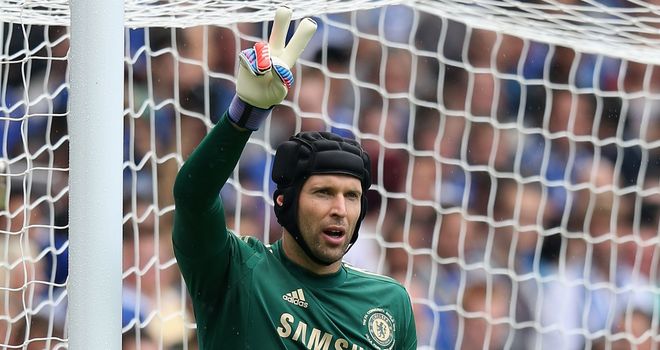 The Blues ended their agonising wait for European Cup glory last season, despite winning just one of their seven matches on the road.
They blew winning positions in the first four of those, including all three group games, although that was before Roberto Di Matteo took charge and rescued their campaign.
And it was their performances from the quarter-finals onward that goalkeeper Cech looked to as he prepared for what, on paper, should be a comfortable win in Copenhagen against Nordsjaelland on Tuesday.
"In the knock-out stages, we shrugged it off," he said. "That was the important part of our winning campaign.
"In the group stages, it wasn't the case. But things changed in the knockout stage. Even the results away from home changed.
"We'd like to continue from there and start with three points. But there's no obvious reason why it happened."
Victory on Tuesday has become more pressing after Chelsea blew a two-goal lead to draw their Group E opener against Juventus.
Cech added: "You want to win every game, home and away. At the start of every campaign, it's important to get as many points as possible from the start so you qualify early.
"That's the ideal situation. We want to get the points early."
Cech refused to take Nordsjaelland lightly ahead of what is arguably the biggest game in the Danish champions' history.
Huge game
He said: "We treat this game exactly as we did the recent games in the league and those games last season in the whole campaign, whether it's the final or not.
"This is the Champions League. We take every opponent seriously.
"We want to win, that's clear, but we've done our homework and want to impose our style of game on the match tomorrow. That would be ideal."
He added: "It's a huge game in the history of Nordsjaelland, so they'll be motivated and up for the task of their first Champions League home game.
"They will want to show they can play football and are rightly in the group stage.
"Any victory would be good for us. It's not going to be easy, but we can secure three points.
"We're the favourites in the group as reigning champions, but all we can do is try and play our game and get a result."