Chelsea manager Roberto Di Matteo wary of Shakhtar Donetsk threat
Roberto Di Matteo feels Chelsea still face a battle to qualify for the knockout stages of the UEFA Champions League.
Last Updated: 03/10/12 5:41pm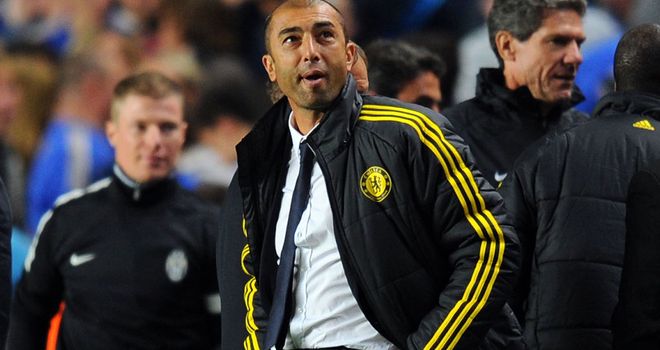 Chelsea have four points from their first two games but now look forward to a double header against Ukrainian champions Shakhtar Donetsk who are level on points with the Blues in Group E.
The Chelsea boss believes that will be a tough task and is just relieved to have overcome Nordsjaelland after it took three late goals to settle the nerves in Denmark.
Di Matteo said: "The Ukrainian champions are a very good team, and it's going to be hard for us to qualify.
"For us, it was important to win. The scoreline shows four goals scored and none conceded, so that's pleasing. Away from home, it's not easy in this competition.
"There are no pushovers in the Champions League - look at Bayern losing (3-1 to BATE), and United having to come back (to win 2-1 at CFR Cluj).
"We got a clean sheet - another one - and scored four goals. Who knows? Hopefully some more will come away from home."
Stupid
Nordsjaelland boss Kasper Hjulmand thought the scoreline was harsh on his team but acknowledged that the visitors' superior finishing highlighted the difference in quality.
"It looks stupid on the board, 4-0," he said.
"Actually I think we played a tight game for 75 minutes and then we collapsed with the second goal.
"We'd just had a good opportunity and were playing well, creating chances, but we didn't do well in the last 15 minutes.
"Physically, we're still lacking some fitness. When you play in the Premier League compared to the Danish league, it's difficult.
"That's one part of it. The other is, of course, we didn't score. Goals change games and we needed a goal.
"Chelsea did better than us in the last third of the pitch, and have quality players who put the chances away."