Cristiano Ronaldo believes that Real Madrid will beat Borussia Dortmund when they meet in the Bernabeu
Cristiano Ronaldo insists that Real Madrid will avenge their defeat to Borussia Dortmund.
By Daniel Storey - @daniels
Last Updated: 25/10/12 1:44pm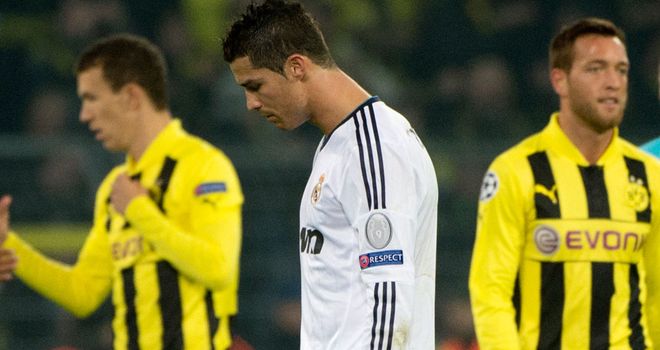 Ronaldo levelled during the first half after Robert Lewandowski had given the German side the lead, but Marcus Schmelzer volleyed home halfway through the second half to give Dortmund a 2-1 victory.
Dortmund now lead Group D on seven points, but the Portuguese forward has insisted that his side will make amends in Madrid when the sides meet.
"You cannot always win," Ronaldo told reporters.
"It is not by chance that Borussia are first in the group.
"It only takes a victory for us to be top of the group at the Bernabeu and I am convinced that we will have a good match."
Goalkeeper Iker Casillas did not feel Los Blancos made the most of Ronaldo's leveller.
"The best Dortmund were at the beginning, we have made it 1-0 and then we caught them and we tied them down," the goalkeeper said.
He added: "When it looked like we had control, the second goal came.
"It is true that the second game will be very important and it is vital to get three points and return to the top spot in the group."