Carlos Tevez is refusing to give up on Manchester City's European campaign
Carlos Tevez believes Manchester City's 'team of champions' can still make progress in European competition.
Last Updated: 11/11/12 1:29pm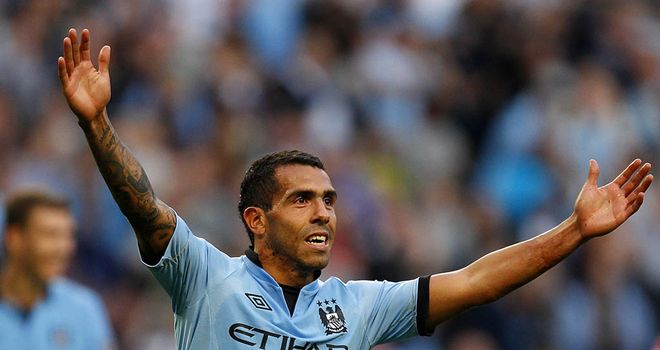 Roberto Mancini's men are staring UEFA Champions League elimination in the face, with a testing continental campaign seeing them collect just two points from four fixtures.
A place in the last-16 would appear to be beyond City, as they prepare for fixtures against Borussia Dortmund and Real Madrid, but Tevez is refusing to give up hope.
"There's a saying that is the same the world over, whether it's in Argentina or England - the table doesn't lie," Tevez told The Sun.
"So when we look at our Champions League group and see just two points from four games, you can't disguise the position we're in.
"But when I look around the City dressing room, I see a team of champions. And I see a team of fighters when we're backed into a corner.
"It's going to be tough to get through to the knockout stages but we must draw strength from the memories of last season.
"The title was virtually at Old Trafford on the final day of the season but as a team we fought, we dug deep and Sergio Aguero's winner against QPR was a sign of our sheer mental strength.
"That made us champions and champions perform under pressure. There is a trust in the dressing room that makes us believe we can still turn things around."
Experience
The Argentina international added: "We have come a long way in a short period of time and already been successful with a title win, an FA Cup triumph and the Community Shield and my experience tells me that this big club will be a power in Europe.
"Remember, it took Chelsea nine years under the new takeover of Roman Abramovich to win the Champions League and they developed a team that was already playing in Europe for many years before the takeover, so the base was set.
"But I believe City will do it much quicker than that."