Borussia Dortmund boss Jurgen Klopp shocked by links to English posts
Borussia Dortmund boss Jurgen Klopp has expressed his surprise at being touted as a potential Premier League manager.
By Patrick Haond
Last Updated: 16/11/12 4:59pm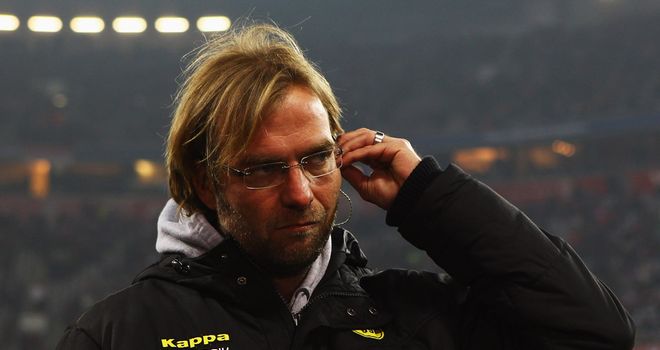 Klopp has considerably enhanced his reputation since taking charge of Dortmund in 2008.
The 45-year-old, in just his second managerial post, has led the club to back-to-back Bundesliga titles, earning him two manager of the year awards.
It comes as no surprise to learn that Klopp is now being linked with some of Europe's top clubs, but the man himself insists he has no intention of leaving the comforts of his homeland.
"I believe it was strange to see my name being linked with Chelsea and Liverpool," Klopp told France Football.
"Jurgen Klopp, born in the Black Forest, future coach of a great English club. It sounds nice. The English press even suggested that I could make it, but if you look closely you will see that I would not.
"I am under contract at Dortmund and there is no chance that I will leave. I am an admirer of English football, but I am already working at a great European club and I feel fine.
"It is nice, though, to be linked with other clubs rather than remain an unknown."
Future
On his ambitions heading forward, Klopp added: "The Bundesliga could become the league of the future. With financial fair play it will be easier.
"What I would really like to see is German players not systematically wanting to go to England. Playing abroad is often not as good as it sounds.
"In Germany we have everything. The only drawback is that we struggle to compete in the Champions League.
"Apart from Bayern, no team is capable of reaching the final. We must have several teams capable of winning the Champions League in the near future."