Roberto Mancini admits Manchester City must contain Real star Cristiano Ronaldo
Manchester City boss Roberto Mancini says his side's Champions League hopes hinge on containing Cristiano Ronaldo.
Last Updated: 20/11/12 5:59pm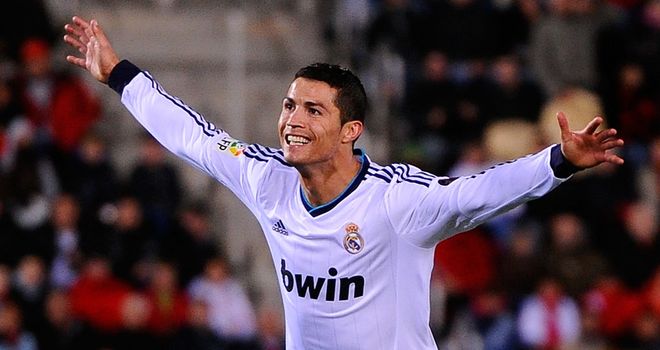 Ronaldo will be making his first return to Manchester since leaving Manchester United three years ago.
City must win to retain any hope of qualifying for the knockout stages from Group D.
Ronaldo, 27, has scored a remarkable 165 goals in 162 appearances for Real, including the late winner when they met City at the Bernabeu in September.
Mancini said: "I think it is not only against us - I think Ronaldo has a big impact on every game.
"One player that scores every game, one or two goals, is an incredible player. For this reason we should have more attention on him because he is a player that can change the game.
"It is my opinion that Real Madrid is the best team in the world - with Barca - and when you play against Real, you play against 11 top players and we should pay attention to all the players because they can score with top players.
"It is clear we should pay more attention in some situations but we should play our football.
"Football is fantastic because if you play against a top team like Barca and Real Madrid and you play well, you can win."
City striker Carlos Tevez knows all about Ronaldo having played alongside him at Old Trafford.
Tevez said: "Cristiano is one of the best players in the world and he will play in this game the way he always has done.
"He does not seem to feel pressure, and there will be no added pressure just because he is back in Manchester.
"Once he gets a chance to face up to you and run at you with the ball he is very, very dangerous and he strikes the ball well too."