Jose Mourinho finds Manchester City's Champions League woes 'hard to understand'
Jose Mourinho says Manchester City's poor performances in the Champions League are "hard to understand".
Last Updated: 21/11/12 10:40am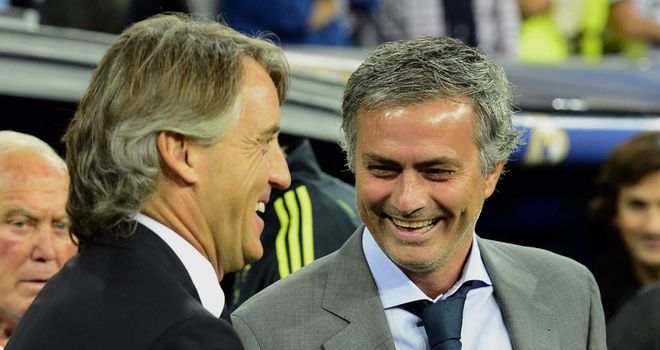 Mourinho takes Real Madrid to the Etihad Stadium on Wednesday night with City bottom of Group D on two points.
They have to beat Real and then win their final game at Borussia Dortmund to stand any chance of reaching the last 16, but Mourinho feels the game is already up for Roberto Mancini's men.
"I don't think it's normal when you're out of the competition at a very early stage," the former Chelsea coach said.
"I speak for myself. If Real Madrid loses a final or a semi-final or a quarter-final, that's football. When you are out at the group phase, it's more difficult to accept and to understand.
"Last season City were out in the group phase. I think this season they will be out again. I think they can win on Wednesday, of course, and I think they can win in Dortmund, but eight points is not enough.
"I think they're out for the second consecutive time, so that must be difficult for them."
Mourinho will lead a team out in the Champions League for the 100th time on Wednesday - at 49 he is the youngest coach to reach that milestone.
He admits he is relishing the prospect of a packed house at an English stadium, having been so successful with Chelsea.
"I always said how much I loved my time here and I always like to be back," he said. "I know when you play in England you have difficult matches, difficult opponents, difficult atmosphere, because the crowd is always very strong behind the team, but I like that.
"I enjoy that and I think also my players are happy to play in England."