Jose Mourinho says crashing out of Europe would have cost him his Real Madrid job
Jose Mourinho feels presiding over a Champions League exit similar to Man City's would have cost him his job at Real.
Last Updated: 22/11/12 9:49am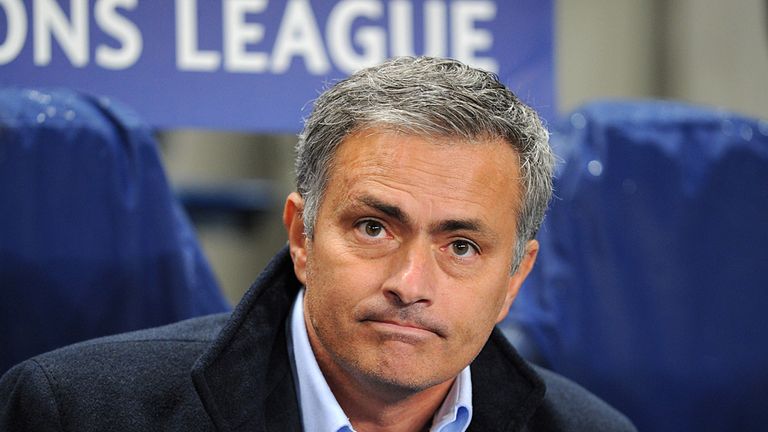 Together with Borussia Dortmund in Group D, Mourinho's Real Madrid will take their place in the Champions League last 16 following their 1-1 draw at the Etihad Stadium.
It is the very minimum demanded by the hard-to-please media pack who follow the Spanish giants and with whom Mourinho has such a spiky relationship.
Roberto Mancini's City crashed out of the tournament at the group stage for the second consecutive year but Mourinho expects him to retain the club's backing.
"I admire the fact that clubs support their manager," said Mourinho.
"City is out of Champions League. But Real Madrid and Borussia Dortmund are very good teams and we knew a big team would be out.
"It is good that it was City because Roberto can work without any kind of problem I believe.
"If it was Real Madrid, the press wouldn't let me return to Madrid."
Scrutiny
It is the same kind of intense scrutiny successive Chelsea managers have operated under since he left Stamford Bridge in September 2007.
Roberto Di Matteo became the latest casualty of Roman Abramovich's seemingly never-ending quest for complete perfection on Wednesday when he was axed, with Rafael Benitez named as his replacement on an interim basis.
The Spaniard had a tempestuous relationship with Mourinho during his days as Liverpool manager, masterminding two Champions League semi-final wins over the Blues, including in 2005 when Luis Garcia took the Merseyside outfit to Istanbul with what Mourinho described as a "ghost" goal.
But former Chelsea boss Mourinho put his differences with Benitez to one side to wish him good luck.
"I like my old clubs to win," he said. "I always wish the managers of my former clubs well so I always wish good look to managers of my former clubs.
"I wish good luck to Benitez."