Pablo Zabaleta finds it hard to explain Manchester City's Champions League exit
Manchester City defender Pablo Zabaleta is baffled by the team's disappointing displays in the Champions League.
Last Updated: 22/11/12 3:39pm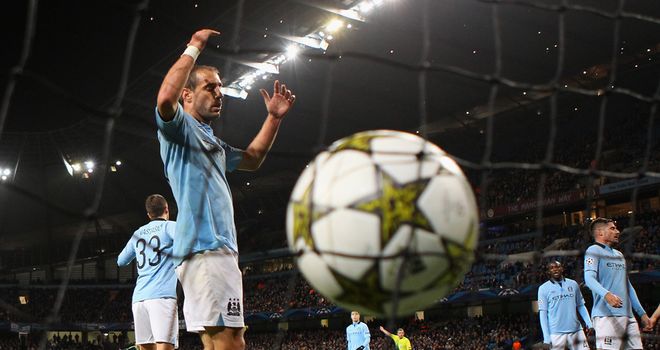 The reigning Premier League champions were eliminated before the knockout stages for a second successive season following Wednesday night's 1-1 draw with Real Madrid at the Etihad Stadium.
City were again pitted against a strong group which also included two other domestic champions in Borussia Dortmund and Ajax, but Zabaleta insists the club's squad was strong enough to cope with the demands of Europe's top competition.
"We are obviously a bit disappointed about the result as we needed three points," he said.
"It was our last chance to get close enough to Real Madrid and Borussia Dortmund, and play the last game with an option to go through to the next stage. Now, the chance has gone and it's hard to understand.
"It's the second year in a row that this has happened - it's hard to see, when you see the players that we have.
"The group was very tough. Borussia Dortmund did very well and maybe Real Madrid were the second best team in the group and that's why we didn't qualify for the next round."
City remain bottom of Group D with just three points, but the Argentina international believes they can regain some pride by claiming a consolation spot in the Europa League.
"We expected more. When you see the squad that we have, you want to try to go through to the next round," he said.
"Now we have a chance to qualify for the Europa League.
"It is always good to play in Europe. That was not our target at the beginning but now we need to go to Germany and beat Borussia Dortmund and wait for the result between Real Madrid and Ajax."