Rafael Benitez has reminded Shakhtar Donetsk the world will be watching against Juventus
Chelsea manager Rafael Benitez does not believe Shakhtar Donetsk will be playing for a draw against Juventus.
Last Updated: 02/12/12 5:19pm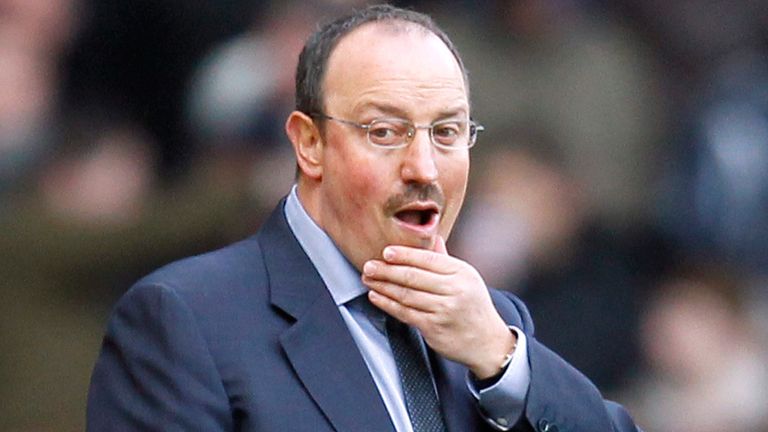 Wednesday night sees interim Blues boss Benitez return to the competition where he made his name in England for what could be one match only.
The game which proved the final straw for Roman Abramovich in the rein of Roberto Di Matteo - the 3-0 defeat at Juventus 11 days ago - left Chelsea on the brink of becoming the first holders to crash out of the UEFA Champions League before Christmas.
Even if they secure the victory expected against Nordsjaelland in their final Group E match on Wednesday night, their campaign will be over if leaders Shakhtar do not beat Juve.
The Ukrainian champions have already qualified for the last 16 and need only a draw to hold on to top spot, a result that would also see Juve progress at Chelsea's expense.
Benitez said: "We know that a draw would be bad for us but the positive thing is that Shakhtar has a lot of good players and everybody is talking about them, so they have to show the rest of the world that they are really good players.
"When you know the top sides in Europe or in the world are watching you then you have to perform."
He added: "Obviously, Juve will go for the win but Shakhtar will need to show this level that they have."
Risk
While Shakhtar's players would not be forgiven for failing to give their all, their manager might be for fielding a weakened side in order to guard against the risk of injury.
But Benitez felt they would not risk surrendering top spot in the group, something which could land them a tougher draw.
He said: "They might finish second and have to play against one of the top sides in Europe and it will be more difficult, so I think they will try to win."
The Blues will no doubt be branded 'lucky' if they progress, having enjoyed outrageous fortune en route to last season's triumph.
Benitez's former club Liverpool faced similar criticism in 2005.
"It's easy to talk but you have to be there, you have to win and Chelsea did it and Liverpool did it," said Benitez, who refused to criticise the the Blues' ultra-defensive tactics in Europe last season.
But he added: "I agree that sometimes the winner is not the best team."