Sergio Ramos relishing prospect of Real Madrid facing Manchester United
Real Madrid skipper Sergio Ramos insists that they will not be underestimating Manchester United.
By Graeme Bailey - Tweet me: @graemebailey
Last Updated: 11/02/13 4:00pm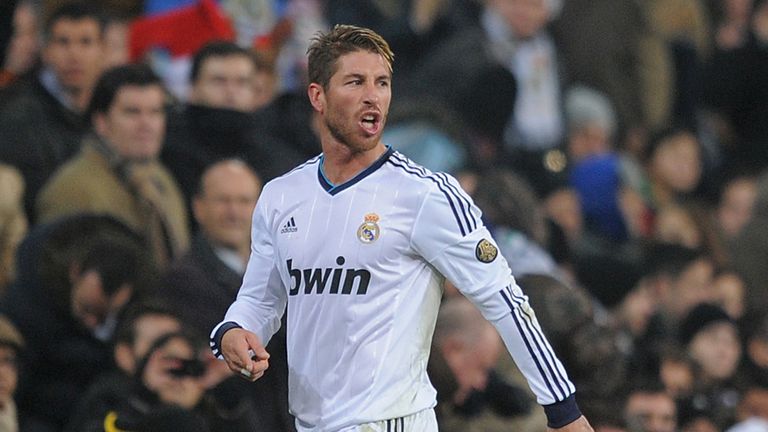 The Spanish champions host United at Santiago Bernabeu on Wednesday in the first leg of their UEFA Champions League last-16 tie.
Madrid warmed up for the match with an emphatic 4-1 win over Sevilla, while United eased to a 2-0 success over Everton, and Ramos is expecting a tough clash.
"United is the most important game of our season. We shouldn't go crazy. We know it's going to be 180 minutes not just 90," he said.
"It's true that over here it would be super-important to keep a clean sheet and try to maintain the offensive level we have.
"We have the players to create danger."
Ramos is looking forward to doing battle with Robin van Persie and Wayne Rooney.
"Van Persie is on very, very good form," Ramos said. "We hadn't seen him this good for years. He's quick, strikes the ball well, he's a constant nuisance.
"Rooney's different. He's hard work, heavy going. He enjoys the physical challenge. I prefer that, to be honest. I like that defender versus striker battle, that challenge.
"But Rooney's mobility is difficult: you don't always know how far to step out to pressure him. He drops deeper, or pulls wide and you wonder whether to follow. The communication with the midfield is vital. If he drops, there's a point at which the centre-back can't follow him and the responsibility passes to the midfielders. Go too far and you leave space behind.
"But it's not just them, it's the whole team. You've got Chicharito who comes on for half an hour and scores two or three every time. And it's no coincidence."
Pleased
Ramos insists he was happy to be paired with the Red Devils when the draw was made.
"I was pleased to get United. They are in the Premier League what Madrid are in Spain perhaps: the values, the history. What they have always represented, the philosophy they transmit, the ideals they inculcated their players with, are similar," he said.
"Few games have the repercussion of this match. And I'd rather play them than a team that's not as big but comes along and surprises you. Besides, I like English football."
He admits that during his rare difficult times, he has has considered making the move to the Premier League.
"When you go through a bad spell all sorts of things go through your mind and there have been times when I've had offers from England and Italy. But my dad told me once: 'If you are ever going to leave anywhere, do it through the front door and with your head held high, not when things are going badly.'
"My dream is to keep playing here but it's true that England's attractive. Friends playing there always talk highly [about it] and it would be a new experience.
"My dad used to watch a lot and he would say to me when I was a kid: 'Come and watch this. Look at this guy ...' I wouldn't say he obliged me to watch it but pretty much. He'd say: 'Today so-and-so is playing; watch him.'"