Gianluigi Buffon will not be intimidated by a 60,000 sell-out Celtic Park
Juventus goalkeeper Gianluigi Buffon insists he will not be intimidated by a 60,000 sell-out Celtic Park.
Last Updated: 11/02/13 11:17pm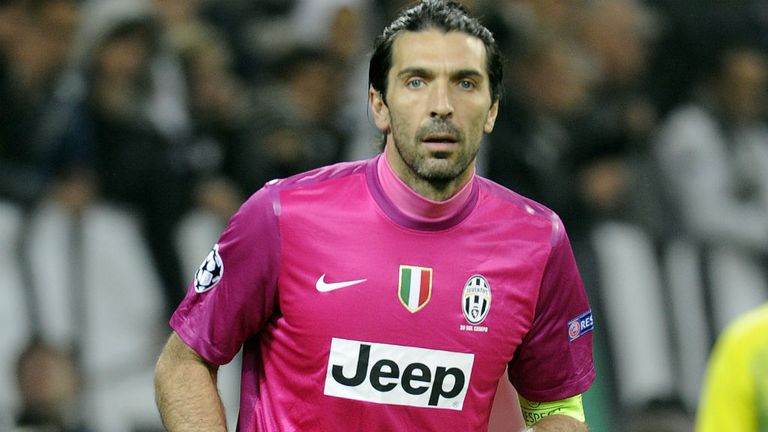 The 35-year-old Italian international was on the bench in October 2001, when Juventus lost 4-3 to the Hoops at Parkhead in a dramatic Champions League qualifier.
That was not his first experience of a Glasgow football crowd, having played for Parma against Rangers in a UEFA Cup match at Ibrox in 1998, which ended in a 1-1 draw, and again in a Champions League qualifier the following year when the Light Blues won 2-0.
However, while Celtic Park gears up for another great European night when the Old Lady of Italy visits for the first leg of the Champions League last-16 clash, Buffon refused to buy into the cliché of the crowd being the 12th man.
He said: "I have played here (Glasgow) two or three times with Parma and Juventus although the last time 10 years ago I was on the bench.
"It was the last match in the group and we had already qualified.
"The atmosphere is very British in many ways but as far as I can remember, no fan has ever scored a goal.
"Certainly the crowd can help Celtic but only to a certain point.
"The opponents can't get carried away with this and must focus on their own game.
"The most hostile atmospheres I have ever played in, I would probably have to say is Turkey, at Fenerbahce and Galatasaray.
"Of course, here, at both Celtic and Rangers, they have stadiums that when full have an excellent atmosphere, we already know this and we respect this very much."
Buffon, though, does not believe that keeping a clean sheet will guarantee a Juventus a safe passage into the quarter-finals.
He said: "If I don't concede a goal tomorrow night then we can be sure that we will at least get a draw which will be something that would be very good to build on for the second-leg, but only to a certain extent.
"It's not a case of us going out to attack and Celtic going out to defend, both teams will play to their strengths to try to win the game.
"It wouldn't be categorical that we would be going through if I don't concede a goal tomorrow but it would certainly be a good start."
Manager Antonio Conte admits he was bemused by the commotion surrounding Juventus' decision to train at Rangers' Murray Park training complex this morning.
"It was only really through the Italian press that I learned that there was such surprise and astonishment here in Scotland that we had used Rangers training pitch," he said.
"I have to say I found some of the criticisms rather strange. The choice was a purely technical one.
"The clubs were able to reach this agreement. We needed a training pitch with two goalposts and as far as I'm concerned that's it."