David Beckham flies into Valencia on Tuesday to meet his new PSG team-mates
David Beckham flew into Valencia on Tuesday to meet his new PSG team-mates before their game at the Mestalla.
Last Updated: 12/02/13 5:12pm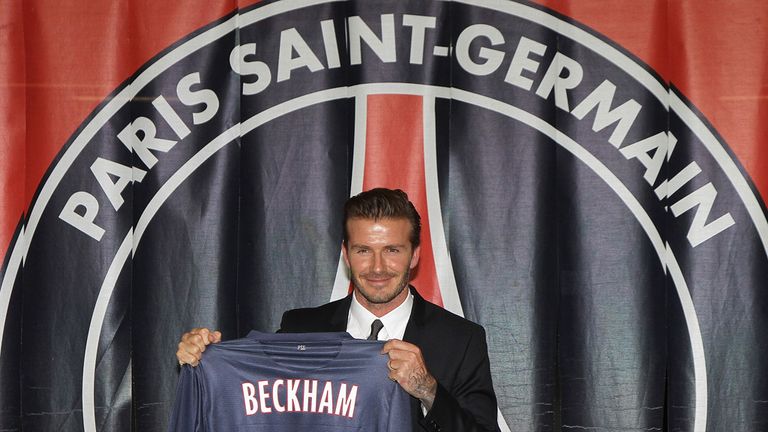 The former England captain is due to watch Tuesday night's first leg from the stands before undergoing his first training session in the French capital on Wednesday.
Beckham joined PSG on deadline day, agreeing a five-month deal, but has since trained with Premier League club Arsenal in London to fast-track his fitness.
PSG confirmed, however, that he was set to meet his team-mates for the first time at a lunch at the team hotel after arriving in Valencia.
"David Beckham joined the hotel where the Paris Saint-Germain team is in Valencia at 11.30am (10.30am GMT) on Tuesday," a club statement read.
"David Beckham landed at Valencia airport at 11am and was met by assistant team manager Olivier Letang.
"The player who will wear the number 32 will meet his new team-mates at a lunch before attending tonight's game from the stands at the Mestalla.
"After the match David Beckham will return to Paris with the PSG team and make his debut practice on Wednesday afternoon at the Camp des Loges."
PSG coach Carlo Ancelotti hinted after last Friday's 3-1 home win over Bastia that Beckham could make his debut at Sochaux on Sunday.
Beckham has previously stated he expects his return to European football, following five years with the Los Angeles Galaxy in the United States, was likely to be at least another fortnight away.
That could mean he plays his first game in a derby against Joey Barton's Marseille at the Parc des Princes on February 24.
To find out more about live football on Sky Sports, Click here