Arsenal midfielder Jack Wilshere defends Arsene Wenger after Bayern Munich defeat
Arsenal midfielder Jack Wilshere leapt to Arsene Wenger's defence after the 3-1 loss to Bayern Munich.
Last Updated: 20/02/13 11:53am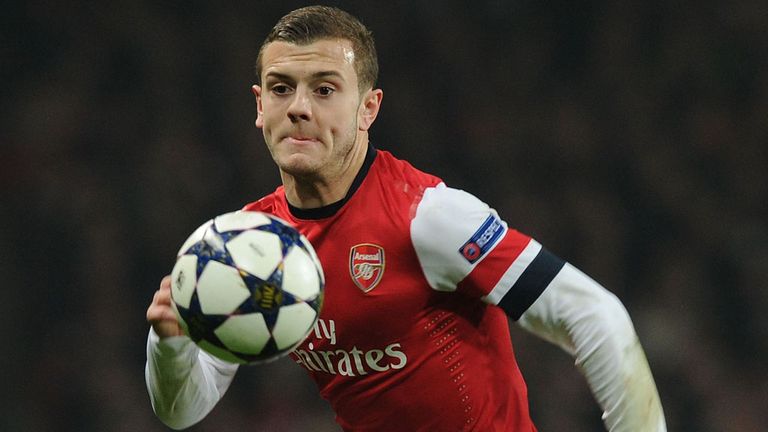 The Gunners left themselves a mountain to climb in the second leg in Germany - Bayern all but assuring themselves of a place in the quarter-finals courtesy of goals from Toni Kroos, Thomas Muller and Mario Mandzukic.
Wenger has taken a barrage of criticism since his side slid out of the FA Cup with a damaging 1-0 home defeat to Blackburn at the weekend and will surely face further trials in the coming days.
But England star Wilshere said: "I don't think it's anything to do with the manager. He puts us on the pitch and it's down to us to perform and get the best out of ourselves.
"He can put us on there and he can motivate us but we have to do it when we're on the pitch and we're starting badly and getting punished for it.
"I think the players will take responsibility. I know we're man enough to take it. The boss has been here for 16 years and he's done a great job. You can't question him.
"We're man enough to take it on the chin and we'll look at it for the weekend (against Aston Villa) and for the away trip as well. We didn't start great and against good teams you get punished. It's been a thing this season."
There was a glimmer of hope for the hosts in the second period when a Lukas Podolski header made it 2-1 - and the game could have been level had substitute Olivier Giroud not fired a flashing volley straight at Manuel Neuer.
Wilshere added: "The second half we stepped it up and we showed we can play. Unfortunately we didn't do that in the first half but we could have got one from Giroud. It was a good save.
"It'll be tough away but we're not out of it yet. There were a bit of nerves and a bit of anxiety. We've shown what we can do when we play so it's a bit frustrating.
"There's always a chance. We have to play there and get a few goals now. We know we need at least three. We know we've got the players to do it. We just need to start better."
Wenger has challenged his side to regroup to mount a final push for Champions League qualification again next season, all but admitting the tie is over.
"We will have two battles, but maybe the easier battle will be to be back in the Champions League," he said.
"However, we have to give everything to try and change things in the second leg. But let's not hide the truth: it will be extremely difficult against a team of that quality.
"We have to give our best and hope we have built our confidence up a bit more, because that belief will be needed."
Wenger added: "The quality of my players is there, but they are not getting reward for their efforts.
"I still have confidence in my players and in my team but on this evidence there is clearly work to be done.
"However, you have to give them (Bayern) credit for their class. In patches in the first half, it was a difference of quality in their display to ours."
Bayern manager Jupp Heynckes, meanwhile, hailed the "astonishing" form of his side following another imperious display.
He said: "Arsenal allowed us a few things in their defence, but we are in astonishing form and can punish even the smallest mistakes of the opponent.
"At times it was quite difficult for us, we had to work hard, but even when they were putting pressure on us, we coped well."
Heynckes' side were beaten in last season's Champions League final, held at their Allianz Arena home, by Chelsea.
However, despite looking well set for another shot at European glory at Wembley in May, the German remains pragmatic.
"You cannot afford to underestimate an opponent because in football, we have seen everything," he said.
"But in this season it is very difficult against us, you can see that with our position in the league, conceding just seven gaols, that is amazing.
"We are also in a position to score, so we have a good chance to progress.
"But if we were to progress Arsenal can still have options in the Premier League to make the Champions League, the team has potential and class."