Champions League: Gerard Pique and Andres Iniesta say Barcelona will fight back after AC Milan defeat
Barcelona's stars are determined to bounce back after their 2-0 Champions League defeat at AC Milan.
Last Updated: 23/02/13 12:51pm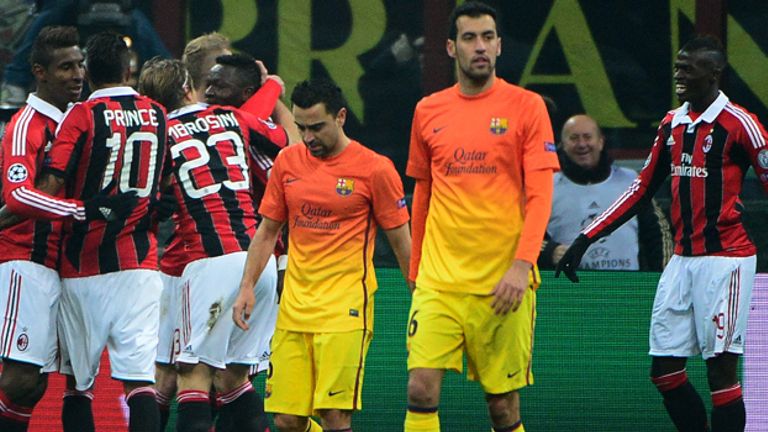 It was an unusual spluttering display from the runaway leaders in La Liga, thanks to a disciplined and energetic showing from the Italians at the San Siro.
The Spanish newspaper Marca, based in Madrid, said the Spanish team had "played their worst game in five years" under the headline "this is not Barca", while even the Barcelona sports daily Sport claimed "worst Barca".
Defender Gerard Pique, whose club boast a record of having reached the Champions League semi-finals for the past five seasons, said the team "maybe weren't as good as they thought they were", but added: "We are Barcelona and we have to fight back.
"We had the match under control in the first half but we didn't play well in the second. We fell apart after they scored the opener, it was out of control. We have to improve and learn from this.
"It looked as though they were coming into the match as victims but we know this club, the history they have. There are no excuses - the pitch, the referee, nothing - we have to work hard to fight back."
Team-mate and attacking midfielder Andres Iniesta was well marshalled by their Serie A opponents and is desperate his team will improve for the second leg on 12 March on their home turf.
"I don't think this game was lost because of small details, I think we lacked freshness, we didn't create chances, and they were well organised," the Spain international said.
"This is the Champions League. We have to think about the return leg and make sure it turns out differently, we have to try and attack from the first minute."
The defeat added fuel to the fire of criticism pouring out of the Spanish media over efforts by their country's four teams in the Champions League in recent days.
Real Madrid were held 1-1 by Manchester United in the Bernabeu, while Malaga and Valencia slipped to defeats against Porto and Paris Saint-Germain.