Champions League: Iker Casillas hopes Real Madrid repeat Nou Camp display
Iker Casillas wants more of the same against Manchester United after Real Madrid's Copa del Rey win over Barcelona.
Last Updated: 05/03/13 7:02pm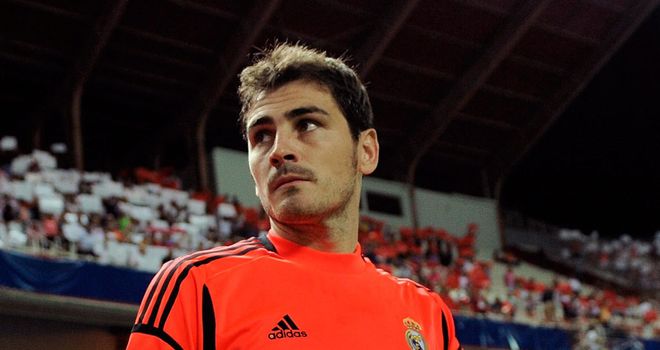 Barca looked favourites heading into the cup semi-final second leg having drawn 1-1 at the Bernabeu, but they were swept aside as two goals from Cristiano Ronaldo and another from Raphael Varane helped Madrid win 3-1 on the night and 4-2 on aggregate.
Madrid now face a similar situation in the Champions League, having drawn 1-1 at home with United in the first leg of their last-16 tie, and Casillas wants his side to replicate last night's performance at Old Trafford next Tuesday.
The Spain goalkeeper said: "We have to transfer this to the match against Manchester United. It is also 1-1 and we have to score and keep a clean sheet. That's the aim that we're going with.
"Manchester United know how to play football, it is a difficult place to go to and we have to take what we have done (against Barca) to Old Trafford."
Progressing through to the Copa del Rey final will be a huge relief to Madrid, whose hopes of silverware this season had looked in some doubt with their Champions League bid hanging in the balance and their Primera Division title defence in tatters.
Madrid are currently 16 points adrift of Barca in La Liga, with the Catalan club also boasting a 12-point lead over second-placed Atletico Madrid with 13 games to go.
The league may be lost, but Casillas is determined not to go down without a fight over the closing months of the season.
"Hopefully this is a turning point to have won this tie and to make it better it was against Barcelona," said Casillas.
"We played a very good tie all round and this will motivate us to make a good showing of ourselves in other matches. Winning the Champions League is a better possibility than the league, but Real Madrid will fight to the end."
Jose Mourinho's men can cut into Barca's advantage this weekend when they face their arch rivals once again at the Bernabeu.
Casillas expects Barca to be out for revenge, but has warned Tito Vilanova's men Madrid will be up for the game as well.
"I know several players from Barcelona and I know they are competitive. We have to be aware that in the league, when we do not win, the fans suffer and it is our duty to fight in every match and the next one is against Barcelona," he said.
"What we want to do is win and keep cutting their lead.
"It is a considerable gap, but with the added bonus of our home fans we want to round off the week well."