Bayern Munich coach Jupp Heynckes hails the form of Arjen Robben
Bayern Munich coach Jupp Heynckes believes Arjen Robben could prove to be the key man in the UEFA Champions League final
Last Updated: 25/05/13 6:40pm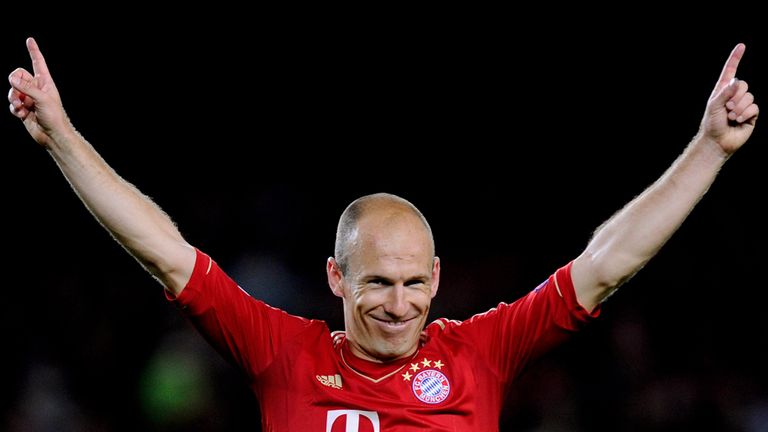 Robben was cast in the role of villain 12 months ago when he missed the extra-time spot-kick that cost his side victory on home soil against Chelsea.
With a disappointing Euro 2012 campaign to follow and then an early season injury, it seemed the Dutchman's influence was fading.
But Robben has slowly returned to form, contributing two of Bayern's seven goals in their semi-final mauling of Barcelona and being an integral figure in their pursuit of the Treble.
And ahead of Saturday's all-German showdown with Borussia Dortmund at Wembley, Heynckes said: "It is not a surprise.
"Arjen was very motivated after the European Championships last summer. But he got injured and lost time.
"He is still driven by ambition. He has a professional approach and is in good form.
"He is a very important player in my system because he has learned to take on defensive roles. That makes him a lot stronger than he has been in the past."
Heynckes reported a fully fit 21-man squad, which will allow Bayern to start favourites to lift their first European crown since 2001.
With the Bundesliga title already confirmed and a German Cup final against Stuttgart to follow next week, Heynckes accepts his team are something special.
"We have achieved some extraordinary things," added Heynckes. "Overall, our season has been the best in the Bundesliga from any team in 50 years.
"But we have the aspiration to carry on. We want to maintain our form tomorrow and in the German Cup final.
"I am fortunate. I have won the Champions League before when I was at Real Madrid. For the players in our squad who are 28 and over, tomorrow could be the crowning moment of their entire careers."
Although Bayern have not beaten Borussia Dortmund in six meetings since February 2010, they start overwhelming favourites given the manner in which they have transferred their imperious domestic form on to the European stage.
Thomas Muller acknowledges the side Bayern wrested the Bundesliga title from have plenty of quality, despite the absence of Bayern-bound Mario Gotze.
However, he is adamant his side are the stronger.
"Borussia are a complete team," Muller said. "That is harder to deal with than a group of individual players, even though their individuals are also very good.
"But I don't have believe we have any weaknesses. We have played a lot of games, scored a great deal of goals and not conceded many.
"I have a really good feeling."