Jerome Boateng says Bayern Munich won't be resting on their laurels
Jerome Boateng admits Bayern Munich cannot rest on their laurels as their rivals will be back stronger than ever
Last Updated: 27/05/13 3:30pm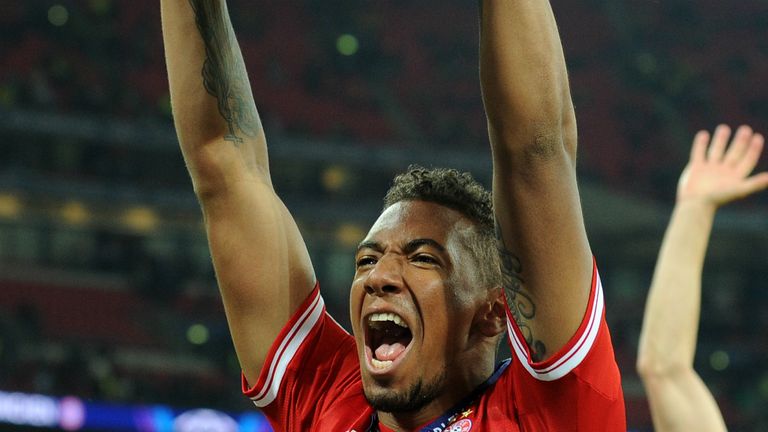 The former Manchester City defender was imperious as Bayern defeated fellow German side Borussia Dortmund 2-1 at Wembley yesterday.
Pep Guardiola will succeed Jupp Heynckes as Bayern coach next season and with the club on a brink of a treble - the Bundesliga and Champions League are in the bag and the German Cup final against Stuttgart awaits next weekend - Boateng says they have to aim to do it all again.
He said: "We don't need to speak now about our new manager, we will just take this win for the manager we have now, we deserve this.
"We have one final left and we will now concentrate on winning that."
"But next season we want to do the same so you cannot rest, we know the other teams will be stronger."
Bayern's match-winner Arjen Robben insists the players are determined to give Heynckes the perfect send-off by securing the treble.
Dutch winger Robben, who made the first goal for Mario Mandzukic and scored a cool winner in the 89th minute, said: "This is the perfect season, and we can finish it off next week. If we win the cup final, then we will win the treble and that's our target.
"I am very proud, proud to be part of this team and to finally win this Champions League is a dream come true."
Another player who did much to secure the trophy was Javi Martinez, the Spanish midfielder, who was one of four relatively unheralded players who arrived in Munich last summer - along with Dante, Xherdan Shaqiri and Mandzukic - and has transformed the team.
Not only in is the treble in sight but Bayern have smashed records for points and goal difference in the Bundesliga.
Martinez said: "You couldn't really ask for more in my first year, it's incredible.
"We are now the best team in Europe, and we hope we can remain there in the coming years."