David Moyes wants Manchester United to win Champions League this season
Manchester United manager David Moyes can't wait to begin his first UEFA Champions League campaign at the helm.
Last Updated: 17/09/13 9:02pm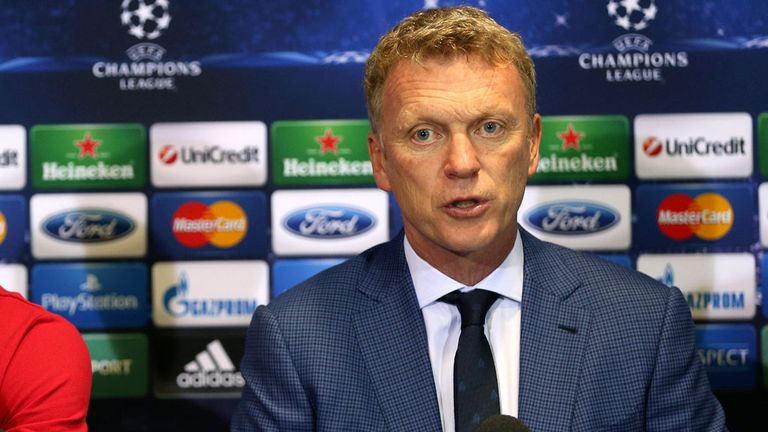 United will entertain Bayer Leverkusen on Tuesday night at Old Trafford and it will be Moyes' first group game in the competition, having been beaten by Villarreal in a final qualifying round tie in 2005 when he was in charge of Everton.
"I'm really excited about it," said Moyes. "I've been excited since joining Manchester United, every game has offered a new challenge.
"I'm really looking forward to the Champions League. I've been there before, with Everton, and we didn't quite make the group stages, but this is something different.
"I'm now managing a club which is used to getting to the final stages and we'll try to do that again.
"I've been in the Premier League for a long time now. I've always wanted to get to the Champions League and I did everything I could at Everton to try and make that happen.
"I've now got another route in with Manchester United and I'm going to do everything I possibly can to win it. That's the key."
Tough group
But Moyes warned that United will have to work hard in order to qualify for the knock-out stages.
"I think all the groups are tough," he said. "I think the Champions League has become different and, over the last one or two years, I think it's become more difficult to pick out the winning teams in each group.
"You can see by the results of some of the group stages, it's a bit more unpredictable than it's been in the past.
"So, I think it's a tough group. We've got a leading team from Germany, a leading team from Spain (Real Sociedad), and we have to go to Donetsk to play Shakhtar, who are pretty well experienced in the Champions League.
"I see it as a pretty tough-looking group."
Rooney
Moyes says Wayne Rooney will again wear the headband he required on Saturday if he features against Leverkusen, even though the forward was able to train without it on Monday morning.
Danny Welbeck will be sidelined by a knee injury and Phil Jones is also doubtful with the ankle problem which ruled him out at the weekend.
Young Belgian Adnan Januzaj will not feature because the UEFA eligibility criteria means it is to United's benefit not to register him until 7 October.
But Moyes says the 18-year-old winger has a bright future at Old Trafford, adding: "I am confident he will sign a new contract."