Champions League: Bayer Leverkusen coach Sami Hyypia hopeful ahead of Manchester United tie
Bayer Leverkusen boss Sami Hyypia returns to Old Trafford hoping for a night to remember.
Last Updated: 17/09/13 7:44pm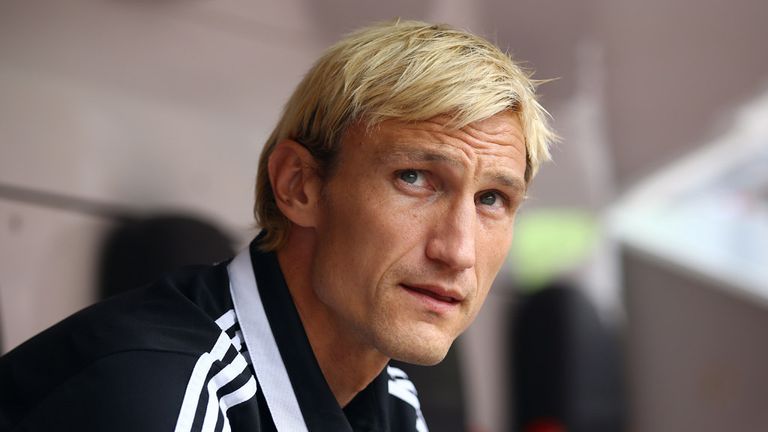 A veteran of a decade's service at Liverpool, Hyypia has plenty of experience on the ground which will mark his debut as a Champions League manager.
Indeed, his final start as a Liverpool player came there, when Fernando Torres inspired a remarkable 4-1 win.
Yet just as sharp in the Finn's memory is a visit six years earlier, in 2003, which did not end quite so well.
"I was sent off after four minutes and watched the rest of the game in the dressing room," he said. "It was the only red card and we lost 4-0.
"You remember those kinds of things but the first one that comes to my mind is playing my last game here, when we managed to win 4-1.
"I only knew I was playing two minutes before kick-off and it was my last 90 minutes for Liverpool."
Signed by Gerard Houllier in 1999, it did not take Hyypia long to recognise the rivalry that existed between Liverpool and United, even if he would prefer to distance himself from it now.
"Coming from Finland, I knew something about the English game and that Liverpool and United were rivals," he added.
"I didn't realise it was quite as fierce as it was though. People started speaking about the United games weeks before they were actually played.
"That kind of stuff means more to the fans though. To us it was just another game, and now I am with Leverkusen, not Liverpool."
Nevertheless, Hyypia understands the enormity of the change United have undergone following Sir Alex Ferguson's retirement.
And he hopes to exploit some uncertainty in the Old Trafford camp even if, ultimately, he expects David Moyes to be a success in his new job.
"It is not the first year they have started slowly," said Hyypia.
"They are at home, they have bigger experience in the Champions League and the pressure is on them.
"We are more relaxed but we must make sure we do not show them too much respect.
"David Moyes is an experienced manager though.
"Everyone should give him more time to get things running. I just hope it doesn't happen tomorrow."
Surprise victors over United in the 2002 semi-final, Leverkusen have undergone something of a transition.
They deserve respect, though, given they have started with four wins from five games in the league that supplied both last season's finalists.
Jens Hegeler and Gonzalo Castro have both been ruled out through injury but Hyypia expects to have star man Lars Bender and last season's Bundesliga top scorer Stefan Kiessling available.