Champions League: Frank Lampard and Oscar to start for Chelsea against Basel
Jose Mourinho insisted he was not obsessed with winning the Champions League with Chelsea ahead tonight's Basel visit.
Last Updated: 18/09/13 7:48pm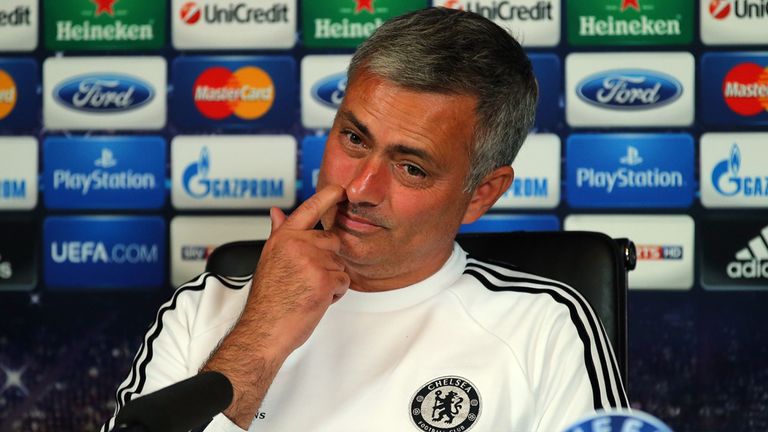 Mourinho won the European Cup as boss with Porto and Internazionale but failed to reach the continent's holy grail in his previous stint at Stamford Bridge as well as in his three years in charge of Real Madrid.
However, the Portuguese claimed it was more of a dream now, than an obsession, to win it again with the Londoners.
"Let's see what happens. I have to focus not on the past but on the future.
"There's no obsession for me with this competition. No obsession for Chelsea. But I want to win it for a third time, and I want Chelsea to win it for a second time.
"This is the beginning of a process with us and the Champions League.
"We made history by winning it two seasons ago. Last year we made history by being the only champions eliminated from the group stage after six matches, and we ended up in a competition we didn't want to play in.
"This season we have some players with different experience, but the potential to win it. "We have to build a team full of talented players without the experience and the football philosophy born of having worked together for a long time.
"Basel are a very difficult opponent, they've beaten Manchester United and Tottenham in the last two years. Chelsea had a dream and that came true by winning the Champions League. If you win it once you dream about winning it twice.
"The first objective of this team has to be a process which ends with an identity, a philosophy and a style of play.
"I had a fantastic time here before and most of the people I worked with are still here. The fans have given me everything."
Mourinho appears to be tempering expectations six years on from the end to his first spell as boss, by speaking of the need to nurture young talent.
Ahead of the Rosenberg clash which precipitated his sacking in 2007, Mourinho delivered a cryptic message about eggs - interpreted as a parting shot at Roman Abramovich and the owner's recruitment policy.
Asked what his eggs are like now, Mourinho said: "Beautiful young eggs, eggs that need a mum, in this case a dad, to take care of them.
"And one day we'll arrive in a moment when the weather changes, the sun rises, we break the eggs and the eggs are ready to go for life at the top level."
Basel boss Murat Yakin says his side are underdogs, despite having a good record against English clubs, helping to knock out Manchester United from the 2011/12 Champions League and eliminating Tottenham from the Europa League last term.
"Chelsea is the clear favourite," Yakin said. "We've got Schalke and (Steaua) Bucharest in this group. We'll be playing for second place with these two teams."
You can watch Chelsea v Basel on Sky Sports 1HD at 6pm