Champions League: Murat Yakin admits Basel clear underdogs ahead of Chelsea clash
Basel boss Murat Yakin admits Chelsea are clear favourites but is excited by Wednesday's clash at Stamford Bridge.
Last Updated: 18/09/13 7:56pm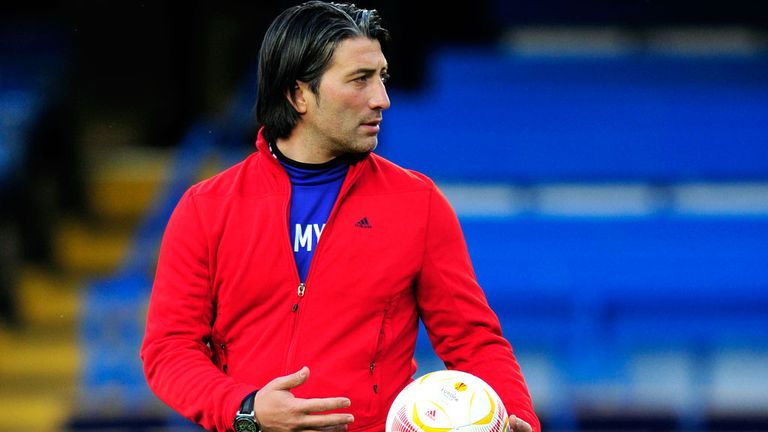 Yakin has set his side - beaten by the the Blues in the Europa League semi-final last season - the task of qualifying for the knockout stages of the continent's premier club tournament, but expects their first test to be the toughest.
"We've got six games and of course we want to go through and of course we want to still be playing in international competition after the winter break," Yakin said.
"We've gained a lot of experience in the matches that we played last season and now we've got Schalke and (Steaua) Bucharest in this group. We'll be playing for second place with these two teams.
"Chelsea is the clear favourite, but we'll see after the first two games and then we'll have a benchmark where we can judge and see where we'll stand."
Yakin played down the potential impact of what has been Chelsea's poorest start to a Premier League campaign in a decade and said he was relishing the chance to pit his wits against Jose Mourinho.
"This team (Chelsea) has the quality that the next game they can turn it around again," Yakin added.
"With Mourinho maybe they play a little bit more offensive and it's interesting to see how he's going to be replacing Ramires (who is suspended).
"We're not concentrating on their line-up and the way they're going to be playing, we're going to concentrate on ourselves, on our team and try to give our best.
"I'm looking forward to this game, my first game in the Champions League. I'm willing to learn a lot and I hope I will learn a lot."
"I don't think we feel any pressure at all. We just know that we're going to go out and fight for 90 minutes.
"We know Chelsea is a great team, they have a lot of experience, but we have great confidence, we have great atmosphere in our team and we know that together we're very strong."