Champions League: Manchester United boss David Moyes hails 'world class' Wayne Rooney
David Moyes praised his Manchester United side and in particular Wayne Rooney after the 4-2 win over Bayer Leverkusen.
Last Updated: 18/09/13 12:53pm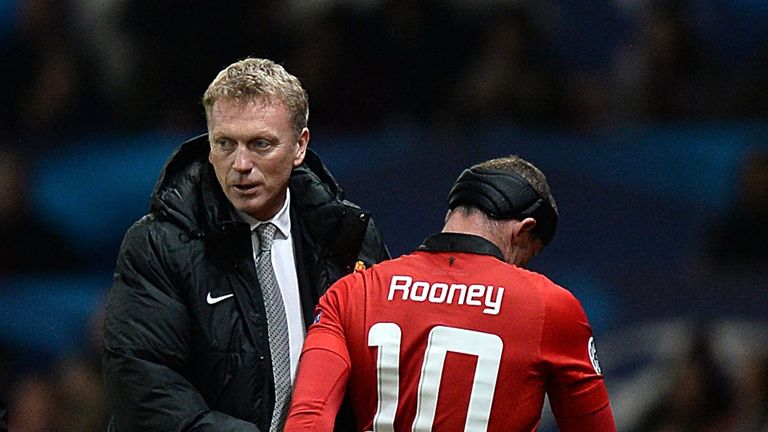 Rooney - labelled as "world class" by his manager - scored twice to reach 200 goals for the club, while Robin van Persie and Antonio Valencia also found the net in a vibrant team performance.
The margin of victory could have been more emphatic if a couple of glorious chances had not gone to waste, or if United had not conceded a couple of soft goals, but Moyes still enthused about his side's display.
"The performance was really good tonight and the result was great," he told Sky Sports.
"I think recently we've not scored as many goals as we would have liked but we've got four tonight and maybe could have scored a couple more.
"The players showed their experience out there. After Leverkusen got back at 1-1, we had to make sure that we went again and won the game."
Rooney was the star of the show with a brace, joining Sir Bobby Charlton, Denis Law and Jack Rowley as the only players to have scored 200 times for the club, while he also set up Antonio Valencia for a magnificent fourth United goal.
Moyes said: "Wayne played really well tonight. He scored his goals and his pass to put Antonio in was terrific.
"We want him to keep that scoring record up. I think there are only three or four Manchester United players that have ever achieved 200 goals.
"I remember saying that he could go on to become one of the all-time greats here by his goals,
"I thought his performance tonight was excellent. I think everything he did was worthy of two goals, and maybe more.
"I think you can see from the way he was moving that he's in a good place at the moment and any forward who's scoring goals feels good about himself.
"Any team that wants to win the Champions League needs to have several world class players - and Wayne would certainly come into that category."
Following speculation over the summer that Rooney could be on his way out of Old Trafford, the striker said after the match: "I've concentrated on working hard to get my head down to get myself fit and ready for the season.
"I'm delighted with the way I've come back and delighted I'm back playing and scoring goals.
"The fans have been brilliant, they have been fantastic with me. It's great the reception I get here and hopefully I can replay them with performances and goals like tonight."
Robin van Persie has admitted he loves playing with the newest member of Manchester United's 200-club and said: "I love to play alongside Wayne. He has a bit of everything. He can go up front, he can play in behind. He can play the short game and the longer game.
"I was very pleased with our team performance," added Van Persie. "I thought we played well. When we had the ball we were very confident on it and everyone did their bit."