Champions League: Olivier Giroud concerned by thin Arsenal squad
Olivier Giroud feels Arsenal's "audacious" away tactics will benefit them in Europe - but he accepts the squad is thin.
Last Updated: 18/09/13 7:55pm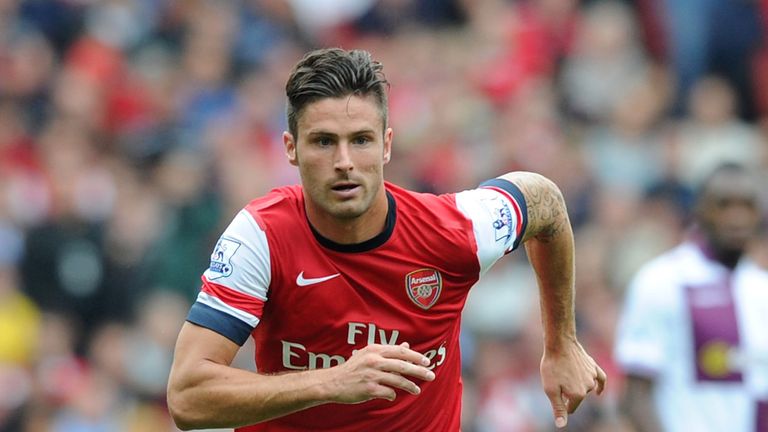 Gunners striker Giroud has shaken off a knee injury in time to travel to the south of France for Wednesday night's Group F opener at Marseille.
The 26-year-old has already chipped in with five goals this season and believes the freedom Arsene Wenger's side play with on their travels should give them confidence in what is a tough pool that also contains last season's runners-up Borussia Dortmund and big-spending Napoli.
"Away from home, we have always been audacious," said the France striker.
"At home through some spells, we played with the handbrake on because we did not have the same confidence. Our away record can compare to anybody in Europe."
Although Giroud is optimistic about the club's chances of progressing past the initial stage for a 15th consecutive season, he knows a shortage of personnel could affect their chances.
"We have a quality squad but I'm a bit scared about the numbers we have," he added. "We will face problems because of the numbers in our squad.
"We'll do everything we can to rival the big clubs, but saying that we want to win the Champions League is a bit presumptuous when you see that Bayern had to play in three finals before winning one.
"It will be a very tough group, but I think we have enough quality to go through."
Giroud believes his improved form in the early weeks of the current campaign can be put down to feeling more settled in north London, and getting more minutes under his belt in the summer build-up.
"I'm really happy with our start to the season and mine in particular," said Giroud.
"I had a full pre-season, which wasn't the case last season when I had more pressure as well.
"I'm in form and I haven't missed any training sessions, so touch wood that it continues. I eased into the season with some goals in pre-season and it has carried on. It goes hand in hand with the team's form at the moment.
"This is what we have been missing in recent seasons. We would often be lagging behind at the start.
"But the fact we lost the first game at the Emirates (to Aston Villa) shook us up a bit and we reacted well, we've scored a lot of goals. Of course, I would like to score more than last season, more than 17 goals in all competitions.
"Normally my second seasons are better and more prolific in terms of goals. I'm loving it in this team and feeling good. So why not?
"I'm feeling better and better, but I still think I have room for improvement and can do better."
Mertesacker confident
Giroud's Arsenal colleague Per Mertesacker is also relishing the challenge ahead and is impressed by the way the team has bounced back from losing at home to Aston Villa on the opening day.
"We have an exceptional team - that's the main thing," the Germany defender said.
"We built up confidence from last season, especially the last 10 games when we didn't lose anything.
"You could feel it from the first day that there is something special in this team, apart from the first game [against Aston Villa], no one dropped and the performance went well after that.
"We have shown so far that we are ready to keep our confidence and keep the run going. The most important thing is to keep that mental level high and to be prepared for because it will be hard.
"Marseille will put pressure on us so we need to be aware of that, particularly in the first 15-20 minutes."