Champions League: Real Madrid boss Carlo Ancelotti flattered by 6-1 win at Galatasaray
Real Madrid coach Carlo Ancelotti felt a 6-1 scoreline against Galatasaray in the Champions League flattered his side.
Last Updated: 18/09/13 11:11am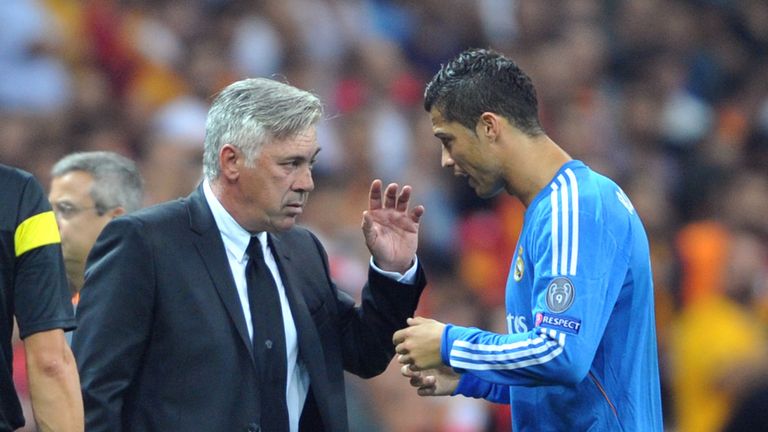 After Isco scored the only goal of the opening half at the Ali Sami Yen on Tuesday night, the floodgates opened as Cristiano Ronaldo netted a hat-trick while Karim Benzema struck twice.
Ancelotti praised his side's counter-attacking qualities for blowing the Group B game wide open but admitted that until Isco's 33rd-minute opener, his side had shown little of the carnage to come.
"The result does not reflect the match," he said.
"It was difficult and in my opinion and Galatasaray had a great first half. We struggled, but after Isco's goal it was easier, we had more opportunities to counter-attack.
"After his goal, the match changed completely. We had more space and we did everything well."
Madrid were held to a 2-2 draw against Villarreal at the weekend and Ancelotti believes a lack of confidence had been at the heart of their slow start in Istanbul.
But once they started to find space, the killer instincts of Ronaldo and Benzema took over.
"I think we started the match with a bit of a lack of confidence and did not show the right attitude to be able to control the play," said Ancelotti, who used world-record signing Gareth Bale as a second-half substitute.
"We controlled things at the back and Galatasaray pressured well. But it is normal, it was the first Champions League match in a very tough stadium to play in.
"We defended well and then with the counter-attack when Benzema and Cristiano Ronaldo have a good night, it is very easy.
"Winning at this ground is not easy, there is a lot of pressure, and it is good to improve our confidence, personality and character."
Casillas injury
Ancelotti played down the injury that forced goalkeeper Iker Casillas off after just 14 minutes of his return to the first team.
Spain's first-choice took an elbow to the ribs and while he initially tried to play on after being heavily bandaged, the 32-year-old soon signalled he had to be replaced.
"Casillas was unlucky and I hope that he will be better in three or four days," he said.
"Inside very few minutes Iker made a great save and showed the good form he is in. It was just a knock, it is only pain, but he could not carry on.
"He is not worried about it and will make a quick recovery."
Gala striker Didier Drogba was another major casualty of the match after he failed to re-appear for the second half following a heavy Pepe challenge.
Ancelotti, who coached the Ivorian at Chelsea, wished him a speedy return, saying: "Pepe went in hard but he did not want to hurt Drogba, who was unlucky and I hope he recovers soon.
"He is an important player for Galatasaray."