Champions League: Celtic midfielder Scott Brown upbeat despite defeat to AC Milan
Celtic captain Scott Brown was full of praise for his team's performance despite their 2-0 defeat away to AC Milan.
Last Updated: 19/09/13 12:30pm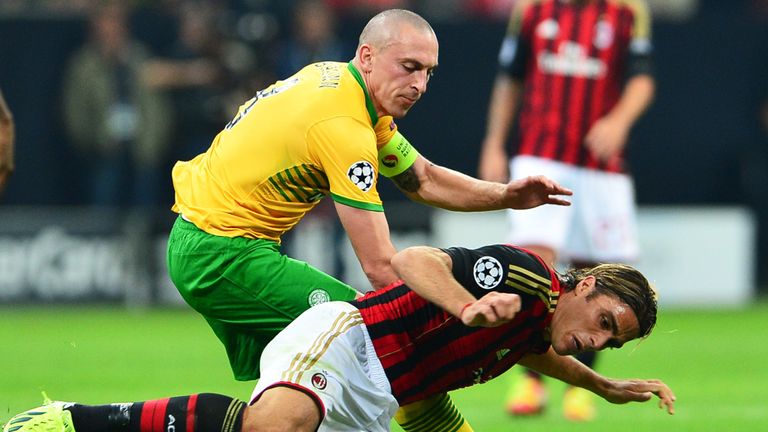 Late goals from Cristian Zapata and Sulley Muntari proved to be the difference at the San Siro, although Celtic controlled possession for large periods of the game, with Anthony Stokes hitting the crossbar from a free-kick.
Even after a valiant display, the Hoops are still chasing a first win on Italian soil, but Brown believes that they deserved to take something from the Group H clash.
"I think we played really well, we created a lot of chances and overall, I thought we were the better team," he told Sky Sports.
"They got a lucky break and scored the first goal and we were always going to try and push forward.
"We knew we were going to get possession, we knew we were a good team and I think we gave just as well as we could give.
"We had a lot of chances and a lot of possession as well. We played well as a team but sometimes playing well doesn't get you anywhere and there's always the rematch."
Celtic are still to face Barcelona and Ajax twice in the coming months, with Brown optimistic that they can utilise their home advantage when the odds are not quite stacked in their favour.
"We knew it was going to be a tough group, it's going to be a tough group for everybody, not just us. They've got to come to Celtic Park and it's going to be harder," he said.
AC Milan midfielder Nigel de Jong also admitted that his side were fortunate to come away from the game victorious.
"It was a lucky win but sometimes you need some luck to win games. We started off quite well but we let Celtic get back into it in the first-half," he said.
"We tried to play a little bit in the second half and then you see two lucky goals, that's football.
"Mentally-wise, they were a lot stronger today. You know that when Celtic come to play on your pitch, you have to play at 100 per cent."