Chelsea's Fernando Torres out of Spain qualifiers after injuring knee in Bucharest
Chelsea's Fernando Torres is out until after the international break with a knee injury suffered at Steaua Bucharest.
Last Updated: 02/10/13 7:48pm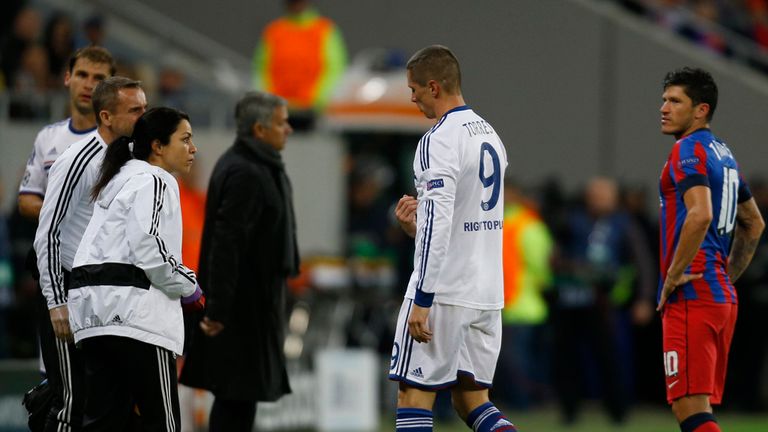 The striker, who learned earlier on Tuesday he would face no action over Saturday's bust-up with Tottenham's Jan Vertonghen, was replaced after just 11 minutes of his side's 4-0 UEFA Champions League victory in Romania on Tuesday night.
Jose Mourinho is confident Torres' injury is not as serious as the one which last week ruled out Marco van Ginkel for six months.
But the 29-year-old, who is facing a one-match ban after his red card against Spurs, will undergo a scan on Wednesday to determine the full extent of the damage, and Mourinho says he will not be fit for Spain's forthcoming World Cup qualifiers.
"The doctor is very confident it's not a big injury, like we had with Marco van Ginkel," the manager said. "It's something in his knee, his ligament, and we have to wait for the scan.
"He knows that he doesn't play against Norwich on Sunday. He knows that he cannot go to the national team.
"He knows he has 15 days until the next match he can play, which is against Cardiff. Let's see the scan. If the injury is an injury for 15 days, I think he'll be fine. That's okay.
"The problem is if it's more time and it's a pity for the guy, because he's in a very good moment. He played fantastic against Tottenham. Today he started the game because he deserved to start the game. It's a pity, but that's football."
Mourinho was happier with the Football Association's decision not to punish Torres for his scratch at Vertonghen at the weekend.
"It was quite a real pressure to make him have a two or three-match ban, but at the same time I was more than confident," said Mourinho, who accused Vertonghen of play-acting at White Hart Lane.
"The FA defends the interest and the culture of English football. It's not to protect cheats and people that simulate.
"To protect English football is to protect people who play the game with emotion, intensity. It didn't surprise me, what happened."