Champions League: Real Madrid coach Carlo Ancelotti hopes he has won over doubters
Carlo Ancelotti hopes he has won over some of his doubters after guiding Real Madrid to a 4-0 win over FC Copenhagen.
Last Updated: 03/10/13 11:51am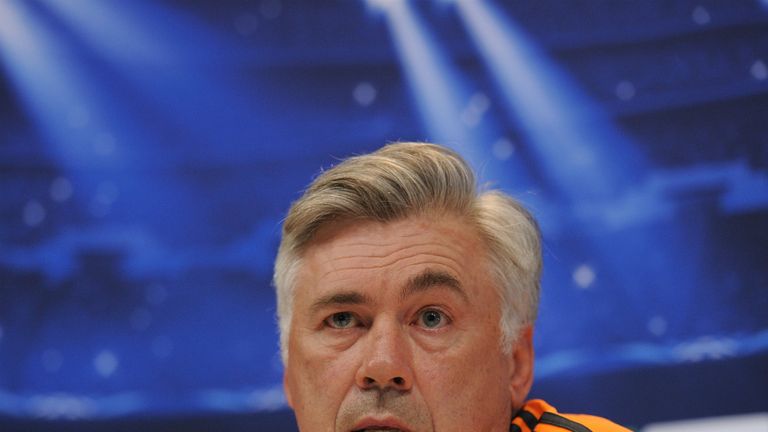 The dominant UEFA Champions League display was decided by a pair of braces from Cristiano Ronaldo and Angel Di Maria - the latter's improvised cross for the Portuguese's second goal perhaps the standout highlight of the game - and eased the pain of Saturday's derby defeat to Atletico Madrid in the Primera Liga.
Four days earlier Diego Costa had guided the Rojiblancos to a rare 1-0 win at the Santiago Bernabeu, inspiring sections of the home crowd to jeer and whistle Ancelotti, who replaced Jose Mourinho in the summer.
But the Italian, who has also overseen five league wins and a draw, believes that the unpleasantness spurred his players on to raise their game against the Danish outfit.
He told Real's official website: "It was a good match. The start of the match was good, with intensity and a good balance.
"Our play was slower after the goal, but in the second half we played with intensity and tried to score until the end. The attitude was good. We changed the attitude and that was good.
"Being whistled at is not bad. I have had it happen a lot in my career and I do not remember it being bad.
"It helps your motivation and concentration and, from time to time, it is necessary.
"At the end of the first half, they were not very happy because we were playing slowly and the pace has to be faster and the play has to be simpler because we have the ability to play that way."
Real are already well-placed to reach the last 16 after winning their opening two games. Their opening-night trip to Istanbul saw Ronaldo score a hat-trick in a 6-1 demolition of Galatasaray.
Next up is a double-header against Serie A champions Juventus, who have so far claimed two points from two European draws.
Ancelotti added: "The important thing is to do our best, try to finish top of the group, not only to be able to play the second leg of the round of 16 at home, but also for confidence.
"We have to do our best in all of our matches and we have a great opportunity to do so in the next one."