The European Club Association says it is happy with Champions League set-up
The European Club Association has insisted it is backing the current UEFA Champions League format.
By Graeme Bailey - Tweet me: @graemebailey
Last Updated: 11/10/13 11:19am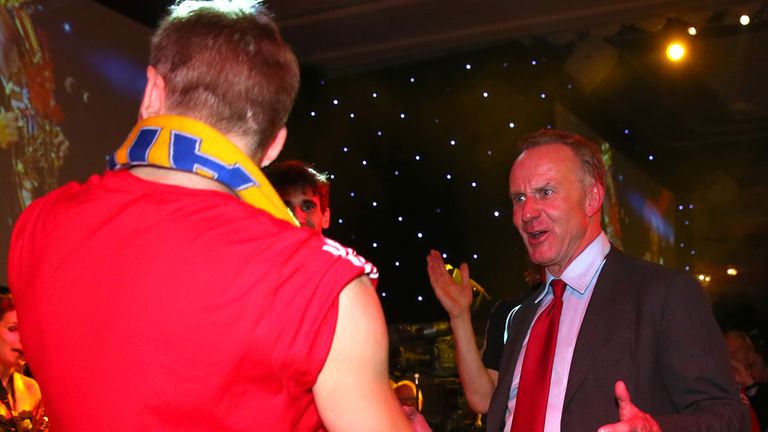 Aysal was talking at the Leaders in Football Conference in London, and stated his hope for a super league.
"I think it is the future of football," he said. "It has to be created, not after 10 years, but as soon as possible.
"Football is a big industry, a growing industry, and a European super league will bring a lot of support and also energise football in general.
"I think it could be 20 big teams, for example, in Europe, with the last three, four or five teams can change every year.
"I think it can be operated in a proper way in order to make it effective and useful to European football and also to bring new horizons in football."
Aysal insisted that a Super League would not necessarily mean a breakaway from UEFA but admitted that they might need to do that.
"The system has to be put in place, either by UEFA or by the clubs themselves. Then we will decide if a breakaway will be necessity or not," he continued.
"It's not yet totally elaborated and prepared and put on the paper. But it is a concept that is under discussion for a few years. It is not a new concept, but we favour it.
"The first 15-20 big clubs of Europe all agree with this - nobody will say no. Manchester United, Paris St Germain, Real Madrid.
"There may be one or two exceptions for local reasons, political reasons, and I will understand, but as the future for European clubs and the future of football, nobody can say no to this.
"Every reality starts with a dream. At the moment, it looks like a dream, a vision. I am sure, sooner or later, in a maximum of five years' time, it will be a reality.
"Other clubs' bosses, presidents and chairman are looking at this opportunity and talking to each other I think we will come together and look into each other's eyes and follow it."
ECA response
However, the European Club Association - led by Bayern Munich CEO Karl-Heinz Rummenigge - issued a quick response to Aysal's comments, insisting they are more than happy with the current Champions League set-up.
A statement read: "The European Club Association (ECA) has taken note of comments made today regarding the alleged creation of a European Super League in 2018.
"ECA underlines that such an idea was never discussed within the association and never figured on any meeting agenda. ECA is very happy with the current European club competitions."
Rummenigge said: "Our European Super League is the UEFA Champions League!
"We are very happy with the current competitions and our extremely fruitful collaboration with UEFA.
"We will continue to work together with UEFA, and this beyond 2018."
Meanwhile, the conference also saw another European league idea put forward - but this time one for nations, with the idea that friendlies could be disposed of.
The idea would see all 54 members nation compete in up to ten mini-leagues, with the hope it would improve interest around international games away from the two major tournaments - the World Cup and European Championship.
The Norwegian FA president, Yngve Hallen, who sits on UEFA's national committee for international tournaments, told The Guardian: "It is true that a series of games is one of the models being discussed.
"The success of the Champions League has already inspired the Europa League. This is also something they are trying to look at in connection with the Nations League - how this can sharpen the market. That's what this is largely about.
"But there have been very clear political guidelines from all 54 federations that the focus needs to be on the football/competitive aspect. All countries should have equal opportunities.
"No-one should have to qualify for this tournament - everyone plays from the first game. And then there is also a recognition that tournament form should be easy to understand for most people. All this we need to work out."