Champions League: Celtic boss Neil Lennon wary of young Ajax side
Neil Lennon insists there is no chance of Celtic taking Ajax lightly in their latest UEFA Champions League outing.
Last Updated: 22/10/13 9:56pm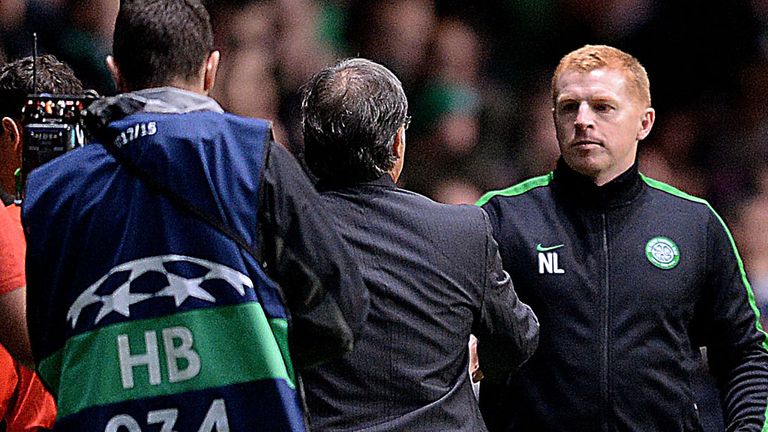 With the Dutch outfit expected to be without some of their more experienced performers for a trip to Parkhead on Tuesday, Lennon's side are being tipped to prevail on home soil.
The Celtic boss accepts his side are being billed as favourites, with the Bhoys' recent exploits in European competition having raised expectations.
He is, however, eager to point out that Ajax remain a dangerous proposition and should not be underestimated.
Fresh from a scouting trip to Holland to watch Frank De Boer's side in action against Eredivisie leaders FC Twente, Lennon said in the Daily Record: "Twente had the best of the first half and could have been a couple of goals up. But Ajax are a very good side and you can see they have a talented squad.
"There were experienced players missing yet they still managed to get a draw against the league leaders away from home.
"It is silly for anyone to think they will not be as dangerous as Milan or Barcelona. That is exactly the reason why myself and the rest of the coaching staff went to watch them.
"There were things I saw which we can exploit, but there were also things that demonstrated Ajax are very talented and dangerous.
"There is so much flexibility within their team. In attack they interchange and the players seem comfortable with whatever they are asked to do.
"Against Twente, Daley Blind played as the anchor man in midfield and I hadn't seen him play that role before.
"It's a different context going into this game because people are expecting us to win. But there is no way you can underestimate Ajax because they are a top team."