Chelsea captain John Terry wants to play in another Champions League final
John Terry wants to reach another Champions League final and is not thinking about his long-term future at Chelsea.
Last Updated: 22/10/13 9:50pm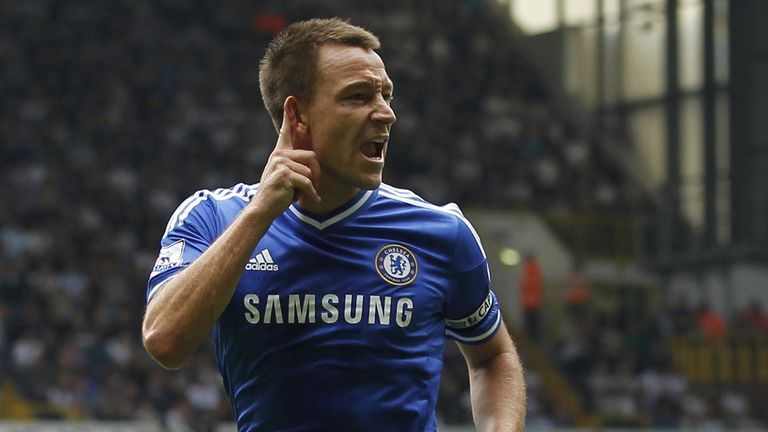 The Chelsea captain's sole appearance in a Champions League final came in 2008 when he missed in the penalty shoot-out in Moscow against Premier League rivals Manchester United.
He was then suspended for Chelsea's 2012 shoot-out victory over Bayern Munich, although he was part of the team's trophy celebrations.
Chelsea face Schalke on Tuesday night in their third group game of this season's competition and Terry has acknowledged that he has unfinished business.
"I played in one (final) and was very disappointed in the one in Moscow, but delighted for the side to go on and win it the way we did," said Terry.
"But as an individual you want to be playing in those games, in those moments and that's what I'm aiming to do."
Terry conceded that his self-esteem suffered a blow last season when interim boss Rafael Benitez favoured a central defensive partnership of Gary Cahill and Branislav Ivanovic, with David Luiz in central midfield, in part due to the skipper suffering a debilitating knee injury.
Under returning boss Jose Mourinho, Terry and Luiz have been the preferred defensive combination, with Ivanovic at right-back, but Cahill could be recalled against Schalke.
Terry, who never doubted his ability to recover top form, said: "It was the first time I've been out with a long injury. When you do get your chance, you really have to impress to stay in.
"Even when I was playing well last year, scoring, I didn't maintain my place. It was quite frustrating for me.
"But the manager (Mourinho) has been great for me. My career is where it is because of this man sitting next to me.
"I'm very proud to be working with him again and the team is in a good period at the moment, we're slowly getting where we want to be."
Mourinho has made it clear from the outset that he will show no favouritism to those with whom he enjoyed success in his first spell.
Terry is out of contract at the end of the season, but steered clear of the subject of his future, commenting: "The manager was honest with me at the start of the season and said 'listen, if you play well and stay fit, you'll be in the side'.
"If that's not the case, I won't be in the side, which then puts everything else up in the air.
"I'm just concentrating on playing well, which I feel as if I'm doing at the moment. Hopefully everything else takes care of itself."
Schalke 04 v Chelsea is live on Tuesday evening, Sky Sports 1HD at 7pm