Jonny Evans wants Manchester United to raise their game ahead of Real Sociedad tie
Jonny Evans insists the onus is on Manchester United's players to raise their game following a stuttering run of form.
Last Updated: 23/10/13 10:08am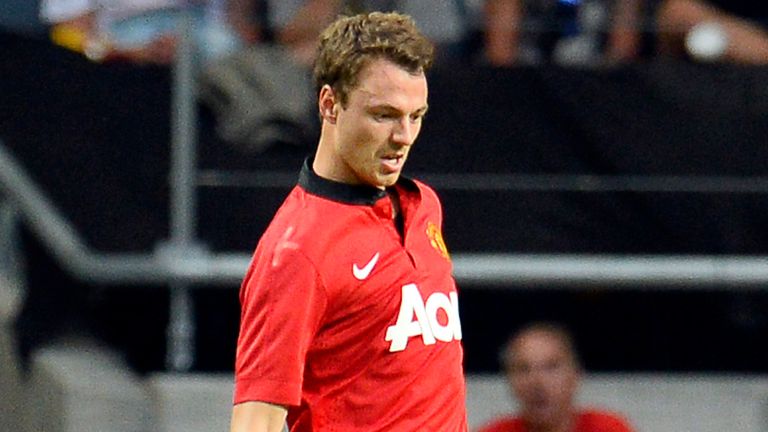 United have endured their worst start to a league season in over 20 years after Moyes was appointed as Sir Alex Ferguson's successor at the end of last term.
The Premier League champions have been thumped 4-1 by local rivals Manchester City, beaten at home by West Brom and held 1-1 at Old Trafford by Southampton in recent weeks.
Moyes himself said United were guilty of conceding possession too easily against Southampton last Saturday and Northern Ireland international Evans agreed with his manager.
And, ahead of Wednesday's UEFA Champions League tie at home to Real Sociedad, Evans called on the players to prove their worth.
Evans said: "We are disappointed, we watched part of the [Southampton] game back and it was clear our performance was not up to scratch.
"I think the onus is on the players to step up, and show what we are capable of, as individuals and as a team, especially in possession.
"We have been giving the ball away too sloppily, and we know that as Manchester United, we need to control games in possession. We have to do better - against Southampton, for instance, we allowed them to control the game better than we did.
"As players we know we have not played well enough as individuals and as a team and looking at ourselves we want to make sure we raise our level and produce better performances."
Four key players were absent from United's training session ahead of the Sociedad match - Danny Welbeck, Tom Cleverley and central defenders Nemanja Vidic and Rio Ferdinand, though Moyes said the first-named duo have a chance of being fit for the game.
Of more concern to Moyes is his team's performances, and he added: "We want to improve results, that's obvious. We want to improve on our performance too, we gave the ball away too much in our last game and we have to do better when we are in possession.
"We have had periods of good play but maybe not continuously, which is something we have been working on in training."
Moyes confirmed that Belgium-born midfielder Adnan Januzaj has been added to the Champions League squad as a home-grown player and could make his debut in the competition.
The 18-year-old signed a new five-year contract last week and Moyes said: "He is now available [for the Champions League] by the way his date of birth works.
"He's an exciting young player making good progress all the time and he someone who is going to play a big part in the future of Manchester United, he's an exceptional talent."