Antoine Griezmann has told Sky Sports that Real Sociedad can beat Man United
Real Sociedad star Antoine Griezmann believes now is the best moment to be playing Manchester United.
By Francisco Acedo
Last Updated: 23/10/13 10:01pm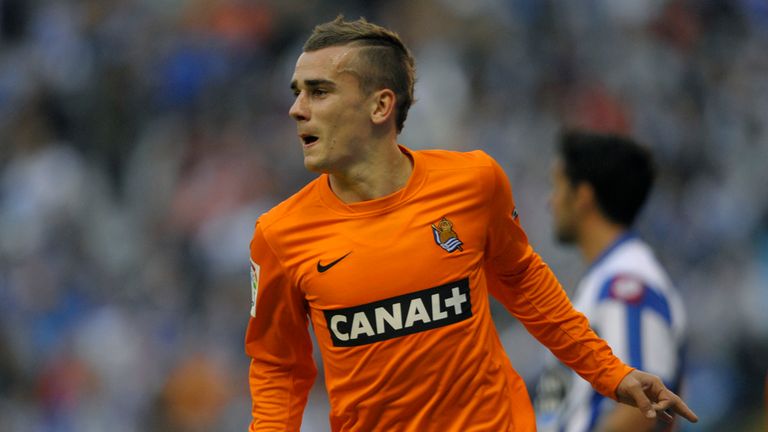 The Spanish side travel to Old Trafford on Wednesday with no points to their name after defeats by Bayer Leverkusen and Shakhtar Donetsk.
But Griezmann insists that Sociedad do not deserve to be pointless and they face United realising they are not in the best of form.
"Now is the best moment for us to play against Manchester United," he told Sky Sports.
"They are under pressure and they need to get a positive result and we could profit from this chance.
"If we analyse the statistics in Europe, it is clear that United appear as favourites for this Wednesday but in football nothing is ever impossible."
Griezmann believes playing at Old Trafford could help inspire Sociedad, adding: "We go to England with a lot of feeling about England, to play in a temple of football such as Old Trafford is a unique opportunity for any footballer and we dream of a victory.
"For us we need to win the match if we want to maintain our chances in the Champions League, but as I say that I know that it is not easy. But we will try and are up for the challenge.
"United are not enjoying their best moment in terms of the results but in their own stadium it would always be difficult to win.
"But Real Sociedad have improved our game in the last few matches. We have had two defeats in the group, but we do not deserve to have zero points in the table."
Griezmann admits that Ryan Giggs is one of his footballing heroes, but he believes the biggest United threat comes from Wayne Rooney.
"Ryan Giggs is an idol at United but for me Rooney is the player that I view as the main man on the pitch.
"For us to be able to get anything from the match, we need to stop him."
France Under-21 international Griezmann, who has come through the Sociedad youth ranks, has previously been linked with a move to England and he says United are one of those who have watched him.
He claimed: "In the last few years some English clubs have looked at me and Man United is on that list but that does not influence my work.
"I have always focused on Real Sociedad and done my best in each match."