Champions League: PSG's Zlatan Ibrahimovic thrilled after four-goal haul at Anderlecht
Zlatan Ibrahimovic was thrilled by his four-goal effort for Paris St Germain on Wednesday night against Anderlecht.
Last Updated: 24/10/13 11:56am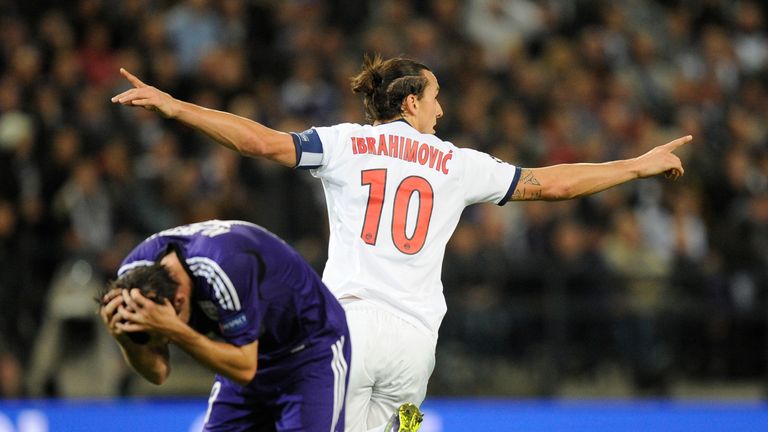 Sweden international Ibrahimovic single-handedly destroyed the Belgians in the 5-0 rout to the extent that he was offered a standing ovation by the Anderlecht fans at the Constant Vanden Stock Stadium.
The win moved PSG five points clear of Olympiacos and Benfica in Champions League Group C but all the talk post-match was of Ibrahimovic.
The former Barcelona and AC Milan striker told L'Equipe: "Scoring four goals does not happen every day. This is a very good thing."
On the reception from the Anderlecht fans, he added: "It was crazy, amazing, fantastic, it gave me chills.
"It was a great honour and I want to thank the fans for their reaction. This is not something that happens often."
Of his four goals, Ibrahimovic was happiest with the third, a 25-yard thunderbolt which flew into the top left-hand corner.
"I think I have to say the third goal was my favourite," he told www.UEFA.com.
"It was a good goal as I shot from distance and timed it very well and it went in. It felt like a very hard shot."
The win pushed PSG to the brink of qualification to the knockout stages.
"I think we have to take one game at a time and the further you go in a tournament the harder it becomes because the strongest teams keep themselves in the Champions League," said Ibrahimovic.
"We are still in the group stage but if we win another one then we are qualified for the next round so we will take things one game at a time.
"We have worked very hard for this and I think we are a better team than last year.
"After a year together we know each other much better and some players have come in and made a difference. If you work very hard you get your rewards. Let's hope when we play Anderlecht at home we play a good game as well."