Champions League: CSKA Moscow deny Yaya Toure racism allegations
CSKA Moscow have denied that Manchester City midfielder Yaya Toure was subjected to monkey chants by their fans.
Last Updated: 24/10/13 3:59pm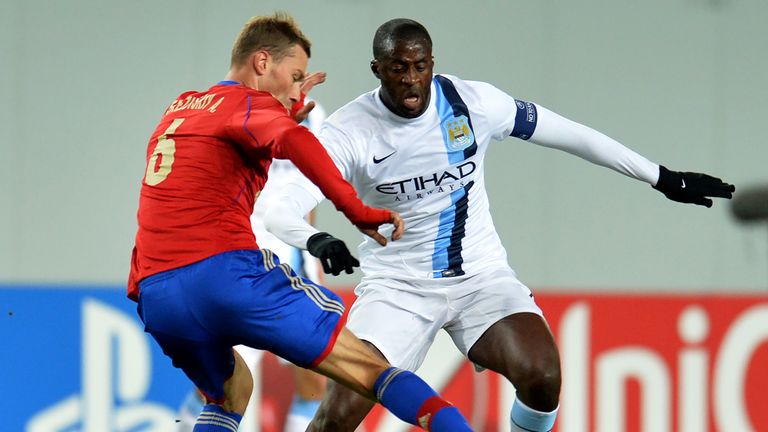 Toure complained after City's 2-1 win in Moscow that he had been the target of the racist chanting during the game.
City have already said they will complain to UEFA, and the governing body has said it is waiting for the match officials' report before deciding what action to take.
But CSKA's deputy media manager, Michael Sanadze, told Sky Sports News that Toure was wrong, saying: "There is no subject to discuss. Nothing special happened."
Sanadze maintains that the UEFA match delegate did not see or notice anything untoward and that there was nothing in their report.
"There was a lot of noise in the stadium. Nobody else, other than Yaya Toure, heard anything. The only trouble that has come about was because Yaya Toure heard something," Sanadze said.
UEFA said on Thursday morning: "We are awaiting the reports from the match which should land at some point today or tomorrow.
"Once received, the contents will determine whether a disciplinary case be opened. Should this be the case, we will communicate accordingly."
Toure spoke to the referee and City officials spoke to UEFA's match delegate after the match at the Arena Khimki and the club will make a written complaint on their return to Manchester.
Toure told Sky Sports: "I told the ref. I think it was unbelievable and very sad. We want to stop that.
"I think UEFA have to do a lot to try to stop it. Maybe close the stadium for a couple of games. As an African player, it is always sad when you hear something like that.
"For me, as captain, I was wearing an armband which said 'no to racism' and I was totally disappointed.
"It's stupid these people. I don't know, it just happens in football. It's unbelievable. They're stupid, they're just stupid. UEFA has to take action to right it otherwise I think they will just continue."
The Kick It Out anti-racism campaign backed Toure's stand.
The campaign group said: "First and foremost the support of Kick It Out is with Yaya and everyone associated with the club.
"He has been brave and proactive not only by speaking out after the game, but by reporting it to the referee too. It was the referee's role to then stop the game which would have dealt with the problem instantly. This was a key failing of last night.
"When abuse is officially logged like this, the offending club should be charged and an automatic partial stadium closure by UEFA can be explored. A second offence could mean a full stadium closure.
"Things are not perfect in this country. But this type of abuse is a depressing throwback and raises questions around the suitability of Russia as World Cup hosts."
So far this season, UEFA has imposed full stadium bans on three clubs - Dinamo Zagreb of Croatia, Legia Warsaw of Poland and Honved of Hungary - for racist behaviour by their supporters while five other clubs have had partial stadium closures.