Rosicky returns
More than a decade on from being the scourge of Arsenal in Germany, Tomas Rosicky will return to Borussia Dortmund on Wednesday as a potentially key factor in Arsene Wenger's plans
By Peter Fraser - Follow me on Twitter @SkySportsPeteF
Last Updated: 06/11/13 12:04am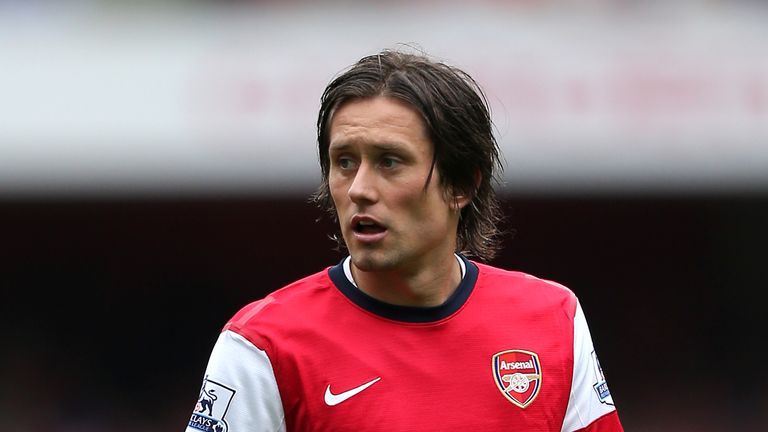 In the opening group stages of the 2002/03 UEFA Champions League, Arsenal's 2-1 defeat by Borussia Dortmund created column inches for several reasons. Regardless of their loss, Arsene Wenger's squad still qualified courtesy of Auxerre losing to PSV Eindhoven. But a fourth successive defeat at that time also represented Arsenal's worst run of form for 19 years. Meanwhile, some media even decided to lead on the news of David Seaman's decision before the game to trim his ill-famed ponytail.
Away from their goalkeeper's haircut, Arsenal had taken an 18th minute lead through Thierry Henry's free-kick in Dortmund. But their hosts, who would also qualify as runners-up during the years in which progress meant going on to a second group stage, would come back either side of half-time to take the points thanks to a goalscorer who is now a more than familiar face at Emirates Stadium.
Current Arsenal midfielder Tomas Rosicky was the man who netted twice for Dortmund that night in October 2002. The first was a free-kick which took a slight deflection off Gilberto Silva. The second was a controversial penalty after Seaman had been adjudged to have brought down Jan Koller.
Rosicky's performance that evening no doubt played a part in Wenger's thinking when he then signed the Czech Republic international in 2006 from Dortmund in a £6.8million deal. Before that move to London, Rosicky had played for Dortmund since 2000, scoring 19 goals in 149 Bundesliga games. He won the Bundesliga in 2001/2002 with Dortmund and was also a member of the team beaten by Feyenoord in the UEFA Cup final in that same season.
Following his transfer to Arsenal more than seven years ago, it has previously been suggested Rosicky, hampered by a succession of injuries, has failed to fulfil his potential and, now, at 33 years old, it has also been said his best days are behind him.
But last season was a prime example of what Rosicky can do when he is fit. Due to an injury, he made just his second start of the 2012/13 campaign in the 2-1 victory at West Bromwich Albion at the beginning of April. He scored both goals. It was a vital win and was only the third game of Arsenal's 10-match, high-pressure unbeaten run at the end of the season which saw them sneak the Premier League's fourth place ahead of derby rivals Tottenham Hotspur.
Wenger said of Rosicky after that win over West Brom: "Tomas was fantastic. He is an important player for us. Unfortunately he was out injured for a long time but every year he gives us a push at the end of the season. I hope he finishes his career with us. I rate him that highly."
Rosicky was not involved when Arsenal travelled to Dortmund in 2011 and he did not have his best night when last season's Champions League runners-up won at Emirates Stadium in October in the current campaign's Matchday Three. But, back in Dortmund for the first time since leaving - and with Arsenal likely to be playing on the counter-attack - he will be able to demonstrate his talents on Wednesday night. And, fortunately for Arsenal, who have seen Jack Wilshere struggle for form and fitness, Rosicky is in excellent form.
Amid an Arsenal midfield which is earning vast praise for the stardom of Mesut Ozil, in-form Aaron Ramsey and experience of Mathieu Flamini, Rosicky, who is almost four years older than the latter, is proving just as valuable an element. In the Premier League, his passing accuracy is just short of Wilshere's level.
Premier League - Arsenal Midfielders
Passes
Passing Accuracy
Ryo Miyaichi
4
100
Mikel Arteta
360
93.89
Mathieu Flamini
322
93.17
Mesut Ozil
499
86.97
Aaron Ramsey
732
86.61
Santiago Cazorla
285
86.32
Jack Wilshere
369
85.91
Serge Gnabry
105
85.71
Tomas Rosicky
272
85.66
Alex Oxlade-Chamberlain
24
83.33
Theo Walcott
107
80.37
In Saturday evening's impressive win over Liverpool, which kept Arsenal at the top of the Premier League, Rosicky was also a key man in his 71 minutes on the field, winning 75 per cent of his duels - with only Bacary Sagna (77.8%) and Per Mertesacker (100%) having a better record. Rosicky also only lost possession on 13 occasions against Liverpool, with Arteta the only other Arsenal midfielder to have given the ball away on fewer occasions (seven). It was also only Arteta (90.8%) who had a better passing accuracy than Rosicky (83.7%) in Liverpool's half.
Fit and in form, Rosicky is clearly a man who is enjoying his football. He said recently: "It is fun to play with players like Ozil and Cazorla. They can pass the ball so quickly and creatively. I think you can see we have fun on the pitch. If you have that, it is great."
This all points to a man in form. Rosicky might not be the mobile and dynamic player who beat Arsenal in 2002, and he might not be as fashionable as the likes of Ramsey, Ozil or Arteta, but he is proving just as important in Arsenal's multi-talented midfield. If he is at his best against former club Dortmund on Wednesday night, media around the world may be reporting on something more than David Seaman's latest hairstyle.
Watch Borussia Dortmund v Arsenal live on Sky Sports 1 HD from 6.00pm on Wednesday.