Champions League: Arsenal boss Arsene Wenger calls for positive approach in Dortmund
Arsene Wenger has urged Arsenal to "take belief" from their win at Bayern Munich when they face Borussia Dortmund.
Last Updated: 06/11/13 8:53am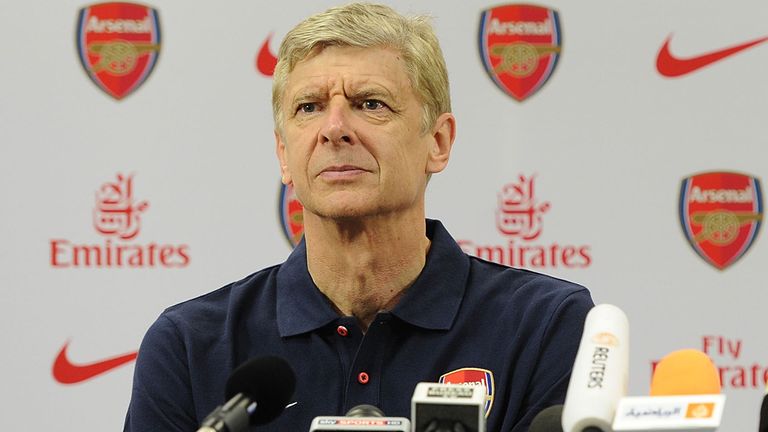 The Gunners travel to Germany on the back of a convincing 2-0 victory over Liverpool which lifted them five points clear at the top of the Premier League.
But Arsenal's Champions League hopes took a hit a fortnight ago after a 2-1 home defeat to Dortmund, who have never lost to an English team at the Westfalenstadion.
However, Arsenal were within two minutes of winning there in September 2011, and Wenger has demanded another confident approach as they did when shocking eventual champions Bayern on their last visit to Germany in March.
"We take belief from Bayern. We play everywhere to win and that will not change of course, we will have a positive attitude in our approach to the game," Wenger said.
"We have played everywhere in Europe and always had the same approach and will be again like that on Wednesday.
"It is difficult to predict what will happen, that is what makes football great. Dortmund are positive, we are very positive. At least that will guarantee both teams will try to win the game.
"I believe we lost the first game because we absolutely wanted to win it at any cost and we exposed ourselves," he said.
"We pushed forward because we were not happy with the draw, but when you cannot win a game, at least don't lose it because you are not cautious enough, that is what happened in the game.
"It will strengthen the resolve of my team because they will want to come out and show a different level."
France forward Olivier Giroud will again lead the Arsenal attack, looking to add to his eight-goal tally this season.
He said: "The difference with the last season is especially the confidence and maybe I improve myself in a technical way, the boss told me that because we work a lot on it at the training ground.
"For me, it's all about concentration, focus, confidence. I try to do the job for the team to help them win.
"If you look at my stats, I used to play a lot of games every season with not a lot of injuries, so hopefully it will be the same this year."
Watch Dortmund v Arsenal live on Sky Sports 1, coverage starts at 6pm on Wednesday