Police lay blame at Celtic fans' door after trouble in Amsterdam
Dutch police have blamed Celtic fans for the unrest before Wednesday's Champions League tie against Ajax.
Last Updated: 07/11/13 6:38pm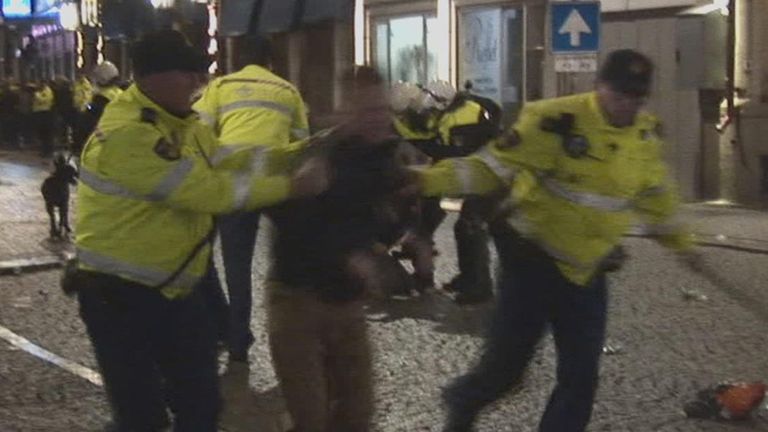 Police in the Holland arrested 44 people, including 28 Scots, following violent clashes in the early hours of Wednesday evening.
A group of Celtic supporters who were gathered in the centre of the city became the target of what appeared to be an organised gang who soon began exchanging taunts before throwing missiles in their direction.
Riot police were swiftly on the scene and they were soon joined by scores of plain-clothes officers.
It is thought a number of Celtic fans charged by mounted police responded by throwing bottles and missiles which resulted in the injuries to the officers.
A police spokesman said: "At the end of the afternoon, a large group of Celtic supporters attacked police officers in plain clothes. Eight were injured and one was knocked unconscious.
"A few of them had broken noses and needed stitches above their eyebrows and on their lips.
"Bottles and sticks were used in the attack which came out of nowhere. 'There were 15 arrests, mostly Celtic supporters."
A Foreign Office spokesman said: "We are aware of the arrests of a number of British nationals in Amsterdam.
"We are liaising with the authorities and stand ready to provide consular assistance."
Speaking to Sky Sports News, earlier Amsterdam Police Inspector Rob van der Veen, asked to clarify the reasons for the arrests, said: "At a certain moment there were around 1,500 Celtic fans on Dam Square.
"There were also police officers in riot gear and also police officers in plain clothes.
"At a certain moment a big group of the Celtic fans turned against the policemen in plain clothes and there was a big fight.
"This resulted in eight of our officers being injured, with broken noses, cuts to their faces, heads and lips. Some of the fans used bottles to hit the officers, which was not a nice sight."
However, the officer's version of events was at odds with a number of Celtic fans arriving back at Glasgow Airport following the 1-0 defeat which leaves their side bottom of the group.
All claimed organised groups of home supporters instigated the trouble which had been widely anticipated after their travelling fans were involved in a number of incidents prior to, during and after Celtic's victory at Parkhead two weeks ago.
"Celtic fans were in the square having a drink and enjoying themselves. Obviously there was more there than had tickets for the game," a returning fan told Sky Sports News.
"The Dutch fans just attacked the Celtic fans, and when they asked police 'what is happening' the police started attacking Celtic fans, hitting them with batons while the Dutch fans were throwing bottles at them."
Another supporter said: "We were in the square just before it all kicked off and it was all the casuals who came into the squad trapping a lot of Celtic fans in the pubs and the security just wouldn't let them out."