Premier League: Yaya Toure hoping to help Manchester City make history
Yaya Toure is happy at Manchester City and says it is his intention to help the club 'make history' in Europe.
Last Updated: 01/12/13 2:47pm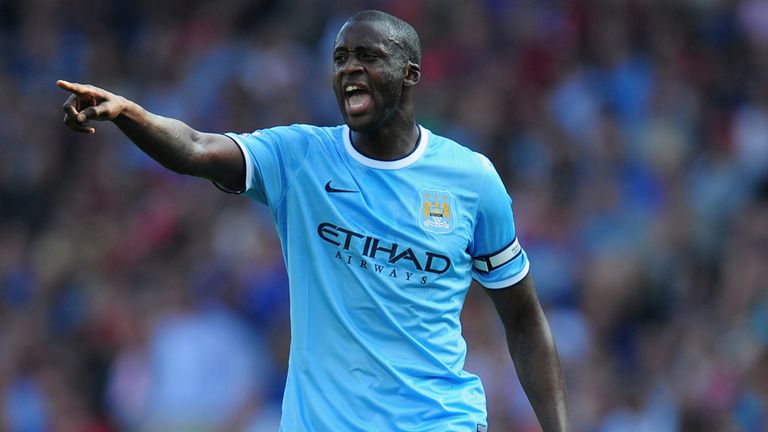 The Ivory Coast midfielder has already etched his name into City folklore, having netted the winning goal as the club's long wait for a major trophy ended in the 2011 FA Cup final.
He then played a leading role in the 2011/12 campaign as the Blues landed their first league title in 44 years.
The target now is to take the UEFA Champions League crown, and Toure says his move from Barcelona in 2010 was driven by the desire to help an ambitious outfit become the best they can be.
Toure told the Sunday Mirror: "Winning the Champions League was why I came to City. God willing, it will happen because that is what this club was working towards when they signed players like Kun Aguero and David Silva.
"With important players like that, I am sure that, in the next few years, we will win all the important trophies.
"I have come to City to make history, to achieve big things. I don't like losing and that's why what happened last season really hurt me. When you are so close to an important achievement and you lose out because of mistakes, it is difficult to take.
"It took me a long time for that disappointment to stop moving around my head. We are all working hard to achieve great things for City and, while it is a big achievement for us to qualify from the group stages of the Champions League for the first time, that can't be enough.
"For us, the target is to go a long way. We want to test ourselves against the best teams in the biggest games and we have a manager now with a fantastic record in Europe, with coaching skills that are unbelievable."
Respect
Toure has also sought to rubbish any suggestion that he is unsettled in England, with former City striker Rodney Marsh claiming recently that the 30-year-old has looked disinterested at times.
He added: "When you get the respect of the fans, it's very hard not to be happy.
"I have the respect of the manager, I'm vice-captain of the club.The fans sing my name around the world. When I meet fans, they ask, 'How are you? All good with your family?'
"How am I going to want to leave all that?
"The club have shown confidence in me, renewing my contract, giving me more confidence, showing they want me to stay a long time. I want to spend the rest of my career here and do a lot more for this club. I have played at a lot of big clubs, but what City and the fans have given to me is massive.
"I have to give back. I will never find another club like this and that's why I see my job here as being more important than just what happens on the pitch. I try to be a good example to the young lads in the junior teams. I speak to them and give them advice.
"We have won a Premier League and the FA Cup, but I want to help change the image of the club permanently, so that people know it as a big club.
"The Champions League would be a massive step towards that - the club and players are working on that. We want to make incredible history."